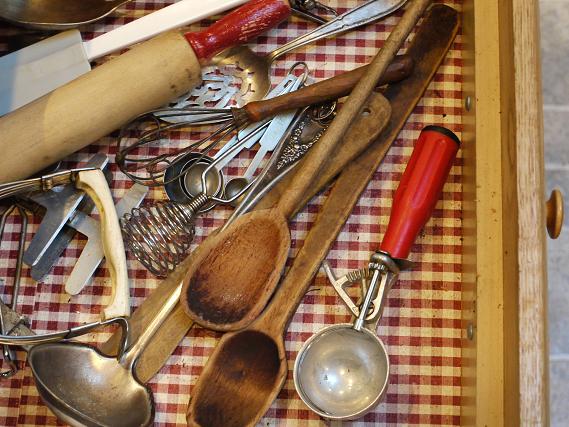 It's the sails of spatulas I praise,
their sturdy masts
ready for any wind
and the Vollrath ice cream scoop,
that clicks with perfect gears
beside the three clanking whisks
in the French style:
elegant stirrers of sauces,
of olive oil, balsamic vinegar;
beaters of eggs, next to
their coy stepsister,
the coiled whisk. I praise

the sensible wooden spoons
with their burns, stains and cracks;
their comfortable fit in any hand,
and Grandmother's ladle:
Rogers' triple plate, worn thin,
pitted by too many soups,
and the rolling pin still
smelling of butter and blueberries.

We need more in the world
that clanks, whirls and scoops.
We need the familiar,
the worn, the cracked.

We need lovely disorder;
predictable, exuberant clutter
overflowing into our hands.
From Shadowcatcher (Ekstasis Editions, 2005).
Used with the author's permission.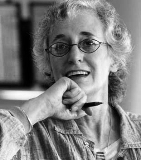 Wendy Morton believes that poetry is the shortest distance between hearts. She has five books of poetry, and a memoir, Six Impossible Things Before Breakfast, in which her adventures as a corporate sponsored poet are revealed. Her latest book of poetry, What Were Their Dreams, is a book of photo-poems of Canada's history. Wendy is the founder of Canada's Random Acts of Poetry project, and is the recipient of the 2010 Spirit Bear Award and the Golden Beret Award. For her day job, Wendy has been an insurance investigator for the last 28 years. She lives in Sooke, B.C. and is a raven watcher. Learn more about Wendy here.
dmahoney:
I love 'the rolling pin still smelling of butter.' Evoking smell is always a challenge in a poem. Happy Birthday, I hope you had a celebration of wild abandon, the kind poets know well!
Posted 11/23/2011 08:15 PM
Sidney Bending:
Sails of spatulas and sturdy masts -- great image. Fun photo too -- wood and metal on red checks -- very country. Happy Birthday. -- Sidney
Posted 11/23/2011 05:03 PM
transitions:
This looks just like my drawer! I shall have to think of it as 'overflowing' instead of how I usually refer to it... Thanks for the timely poem and a new way of 'seeing' a familiar sight. Judy
Posted 11/23/2011 04:35 PM
Reganz:
I have some ancient metal measuring spoons and cups that I won't ever trade for new ones. Happy birthday to one of my favourite poets (and people).
Posted 11/23/2011 03:11 PM
Cynthia Woodman Kerkham:
Charming reminder to open to the beauty and richness of chaos in our abundant lives. Happy Birthday you exuberant whisker, you!
Posted 11/23/2011 01:08 PM
Jo:
Lovely disorder! Praise for your thoughts in this wonderful poem, Wendy. And Happy Birthday.
Posted 11/23/2011 11:25 AM
LindaCrosfield:
I see a new series, Wendy. Clutter drawers of the world, unite! Lovely to read this today. And Happy Birthday.
Posted 11/23/2011 10:38 AM
pwax:
Thank you, Wendy, and a Happy Birthday to you! May you see a rare raven tomorrow.
Posted 11/23/2011 10:20 AM
trailpny:
To praise "a lovely disorder" first thing in the morning is always a good thing.
Posted 11/23/2011 10:16 AM
dotief@comcast.net:
So nice! I have such a drawer and similar exuberant clutter. Thanks!
Posted 11/23/2011 09:13 AM
Anjie:
Happy Birthday, Wendy! This is absolutely wonderful and it inspires me. Thank you!!!
Posted 11/23/2011 07:30 AM