Anxiety is ½ not knowing
where the checkbook is
½ knowing
the balance
From Drenched (Telephone Books, 2003).
Used with the permission of Stephen Spicehandler.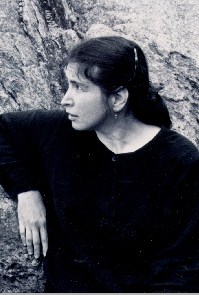 Susan Cataldo (1952 - 2001) was born in the Bronx, New York City, and died there of cancer, having spent most of her intervening adult years living in Manhattan' s East Village. In the late seventies she began her close involvement with the Poetry Project at St. Mark' s Church-in-the-Bowery where she first participated in workshops and later taught. Besides her three books of poems published by Telephone Books (Brooklyn-Queens Day, The Mother Journal and drenched), her poems have appeared in numerous poetry publications as well as in the anthologies Out of This World (edited by Anne Waldman) and Good Poems for Hard Times (edited by Garrison Keillor).
Linda Lee (Konichek):
I like this, and I'm with you, Jayne, no way would I go to the malls today, maybe to my favorite re-sale shop, which is a friendly, neighborhood place. What a shame to lose this young poet at such an age!
Posted 11/25/2011 03:30 PM
KevinArnold:
Pushing symbolism to keyboard symbols; brief, experimental.
Posted 11/25/2011 10:36 AM