I have some friends, some worthy friends,
And worthy friends are rare:
These carpet slippers on my feet,
That padded leather chair;
This old and shabby dressing-gown,
So well the worse of wear.

I have some friends, some honest friends,
And honest friends are few;
My pipe of briar, my open fire,
A book that's not too new;
My bed so warm, the nights of storm
I love to listen to.

I have some friends, some good, good friends,
Who faithful are to me:
My wrestling partner when I rise,
The big and burly sea;
My little boat that's riding there
So saucy and so free.

I have some friends, some golden friends,
Whose worth will not decline:
A tawny Irish terrier, a purple shading pine,
A little red-roofed cottage that
So proudly I call mine.

All other friends may come and go,
All other friendships fail;
But these, the friends I've worked to win,
Oh, they will never stale;
And comfort me till Time shall write
The finish to my tale.

This poem is in the public domain.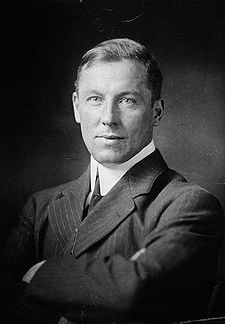 Robert Service (1874 - 1958) was a Scottish poet who became smitten with the Yukon Territory when he moved to Canada at the age of 21. Though he longed to be a trail-blazing cowboy, and many thought he indeed lived the life of which he wrote, Robert was, in fact, a bank clerk. After wandering North America for several years, working at odd jobs and various bank branches, he finally settled down in Dawson City, Yukon, some time after the Gold Rush. Robert began writing poems about his stark and beautiful surroundings, and about the legends and lifestyle associated with that part of the world. When his collection of poetry, The Spell of the Yukon and Other Verses, was published in 1907, it was an immediate success, made Robert wealthy beyond his greatest expectations, and earned him the nickname "The Bard of the Yukon." Robert alternated living in North America and Europe for the remainder of his life--even spending a few years in Hollywood; the cabin in the Klondike where he made his home is now a Canadian national park site.
69Dorcas:
Lo, should I find half of these friends and to be at my death bed, my wish for the family gone.
Posted 12/18/2011 04:59 PM