A boy in red boots is making snow angels with his 
small body. Old ladies on their way to mass, fold 
their arms around themselves to keep warm. The
boy jumps up, brushes snow from his jacket, smiles 
with delight at the perfect forms carved into the snow. 
Behind him the church bell tolls, a black hearse arrives,
carrying the most recent dead. Now the boy turns
to watch the procession of mourners. His eyes fix 
on the people walking behind the casket, their arms 
wrapped around each other. He knows something 
of death, his grandfather, his dog Cyrano. He knows
when people die they need angels. As the church doors 
close, he falls into the snow and spreads his wings.
© by Janet Leahy.
Used with the author's permission.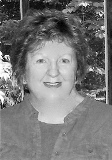 Janet Leahy is the author of The Storm, a collection of poems about the Iraq War, and her poems have appeared in a a variety of journals, in the Wisconsin Poets' Calendars, and in the anthology, Empty Shoes. She participated in last year's "One Vision" art and poetry exhibit at Waukesha's Oconomowoc Arts Center, and will have another poem included in the "Verse and Vision Project," at Q Gallery in Steven's Point, Wisconsin, during May of 2011. A member of the Wisconsin Fellowship of Poets, Janet lives in New Berlin, teaches part-time in Milwaukee, and participates in a poetry critique group at  UW-Waukesha. 
transitions:
...angels come in many forms, I love this one; beautiful poem, Janet. Judy
Posted 12/17/2011 09:35 AM
tannerlynne:
a lovely poem
Posted 12/17/2011 08:50 AM
Maryann Hurtt:
I love how quiet this poem feels.
Posted 12/15/2011 10:39 PM
Kay Sanders:
I love the role of arms in this poem--sometimes wrapped around ourselves, sometimes around each other, and sometimes spread so wide they encompass the world. Thanks, Janet.
Posted 12/15/2011 04:57 PM
Jo:
Beautifully done, Janet. A moving poem.
Posted 12/15/2011 01:51 PM
pwax:
Beautiful, Janet! The last line is perfect--"spreads his wings". Phyllis
Posted 12/15/2011 10:11 AM
tiddles:
words that make us catch our breath, bring teary cover to eyes- such a poem is this one, Janet. Thank you. Marilyn Windau
Posted 12/15/2011 09:41 AM
wordsmith:
Wonderful!
Posted 12/15/2011 09:06 AM
Glen Sorestad:
Death seen through a child's eyes -- very moving. Well done, Janet.
Posted 12/15/2011 08:59 AM
ed werstein:
Excellent poem, Janet!
Posted 12/15/2011 08:45 AM
dotief@comcast.net:
Very nice! I too was drawn into the scene and the drama.
Posted 12/15/2011 08:37 AM
lincolnhartford:
I can see it happening, and also the poet's blessing of perception. L
Posted 12/15/2011 07:16 AM