Let us walk in the white snow
In a soundless space;
With footsteps quiet and slow,
At a tranquil pace,
Under veils of white lace.

I shall go shod in silk,
And you in wool,
White as white cow's milk,
More beautiful
Than the breast of a gull.

We shall walk through the still town
In a windless peace;
We shall step upon white down,
Upon silver fleece,
Upon softer than these.

We shall walk in velvet shoes:
Wherever we go
Silence will fall like dews
On white silence below.
We shall walk in the snow.


This poem is in the public domain.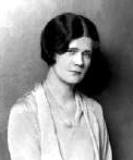 Elinor Wylie (1885 - 1928) was an American poet and novelist. Born in New Jersey to a socially prominent family, Elinor was beautiful, clever, charming, and talented, yet her personal life was filled with trauma and disastrous relationships. Poetry editor of Vanity Fair magazine for a time, Elinor was praised by critics and readers alike for her creative output, if not her ethics; her poetry was called "brilliant" and "genius," and her novels termed "sensitive" and "romantic." Plagued throughout her adult life with high blood pressure, Elinor died of a stroke at the age of 43.
Linda Lee (Konichek):
Elinor's perfect images remind me of those "windless" times after a large snowfall, when the entire world is so still, it seems to be holding its breath. One forgets how noisy the other seasons are until one of those days appears.
Posted 01/03/2012 10:56 AM
KevinArnold:
Faithful to her central image; haunting.
Posted 01/03/2012 09:27 AM