I drag the lawn chair
to the center of the new lawn
where you have warned
it will ruin the delicate
grass. From here
I have a perfect view
of the pink camellia,
the one with rose-shaped flowers
which you secretly think
I have ignored. This is my camellia
viewing platform
I tell you, remembering
signposts in Japan.

You look at the dark cave
beneath my chair where the grass
will die in architectural stripes.
We look at each other.
This is one of the impasses
a marriage must
make a detour around
or else crash into.
Meanwhile the camellia
opens its flesh-colored petals
with utter unself-consciousness,
releasing its scent
into the dangerous air.

From Heroes in Disguise (W.W. Norton & Co., 1991)
Used with the authorís permission.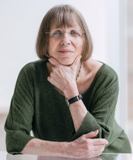 Linda Pastan (1932 – 2023) grew up in New York City, graduated from Radcliffe College, and received an MA from Brandeis University. Author of 15 volumes of poetry, two of which were finalists for the National Book Award, she served as Poet Laureate of Maryland from 1991 to 1994 and, in 2003, won the Ruth Lilly Poetry Prize for lifetime achievement. Linda's work often focused on the ordinary moments of life: domestic activities, familial relationships, aging, fear, loss…and dogs, which she loved.
trailpny:
She's a master of the displaced word, of the line ending. I always learn something by reading her poems. Thank-you.
Posted 01/04/2012 10:57 AM
KevinArnold:
Crafty, that Linda Pastan. I enjoyed the subtle allusion to trips to Japan and cultural differences. She's a great favorite in our Poetry Center.
Posted 01/04/2012 10:38 AM
Devon:
Lovely
Posted 01/04/2012 09:13 AM
Glen Sorestad:
The last four lines are priceless! The juxtaposition of the camellia's aroma and the tension-filled air -- wonderful!
Posted 01/04/2012 08:06 AM
dotief@comcast.net:
I especially love the ending! Nice poem!
Posted 01/04/2012 07:56 AM