I wish
I was the chubby grey cat
curled up tight, dozing
in the warm sunshine,
lying behind the flowerpots,
observing
a symphony in the garden unfold.

I wish
I was the scarlet rose hips,
high above the trellis,
eying the changing colours of the day,
listening
to warm whispers from the trees,
eaves dropping
on secrets of scented rose buds,
or the bitter woes of sobbing poppies,
gossiping
with hot pink hibiscus,
on the hidden underworld of leaves.

I wish
I was a striped bumble bee
whizzing from lilac to lavender,
or a fluttering butterfly
sipping on sweet nectar,
or a fat spider,
weaving silken threads
spinning trapped lives to death.

How nice it is
to daydream,
as I sit looking out the window
on a barren winter garden,
with the promise of spring,
the hope of summer,
of light and warmth
on a slate winter's day.
© by Máire Morrissey-Cummins. 
Used with the author's permission.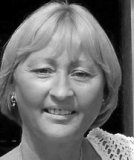 Máire (pronounced Moira) Morrissey-Cummins is a native of Ireland who lived in Holland and Germany for many years due to her husband's work. Recently retired from a financial career, she's now back in County Wicklow, the "garden of Ireland," and has adopted writing, painting, and gardening as her new interests. Wicklow's beautiful waterside setting is providing much inspiration ("I can see the sea from my bedroom window," says Máire) for this mother of two who has garnered numerous publication credits already, in both journals and anthologies.
Eiken:
Thank you for your lovely comments everyone. Appreciate them:)))) Love from Ireland. Go raibh maith agaibh go leir:))))
Posted 01/05/2012 12:49 PM
MLove:
I liked the poem but I loved your introduction!
Posted 01/05/2012 11:10 AM
KevinArnold:
Máire's fine work reminds me so of D. H. Lawrence's "Pax:" . . . Like a cat asleep on a chair at peace, in peace and at one with the master of the house, with the mistress at home, at home in the house of the living, sleeping on the hearth, and yawning before the fire. . . .
Posted 01/05/2012 10:23 AM
dotief@comcast.net:
Erin Go Bragh! What a lovely set of images that catalog the joys of spring gardens and help us make it through the blustery, drab winter. Fine poem!
Posted 01/05/2012 08:12 AM
69Dorcas:
Top O the Mornin! I wish I was sittin' on the Cliffs O Moher. I've been there and bought a Tin Penny Whistle from a pedler.
Posted 01/05/2012 07:04 AM