Woe is me to tell it thee,
Winter winds in Arcady!
Scattered is thy flock and fled
From the glades where once it fed,
And the snow lies drifted white
In the bower of our delight,
Where the beech threw gracious shade
On the cheek of boy and maid:
And the bitter blasts make roar
Through the fleshless sycamore.

White enchantment holds the spring,
Where thou once wert wont to sing,
And the cold hath cut to death
Reeds melodious of thy breath.
He, the rival of thy lyre,
Nightingale with note of fire,
Sings no more; but far away,
From the windy hill-side gray,
Calls the broken note forlorn
Of an aged shepherd's horn.

Still about the fire they tell
How it long ago befell
That a shepherd maid and lad
Met and trembled and were glad;
When the swift spring waters ran,
And the wind to boy or man
Brought the aching of his sires--
Song and love and all desires.
Ere the starry dogwoods fell
They were lovers, so they tell.

Woe is me to tell it thee,
Winter winds in Arcady!
Broken pipes and vows forgot,
Scattered flocks returning not,
Frozen brook and drifted hill,
Ashen sun and song-birds still;
Songs of summer and desire
Crooned about the winter fire;
Shepherd lads with silver hair,
Shepherd maids no longer fair.
This poem is in the public domain.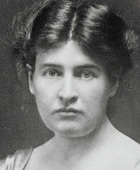 Willa Cather (1873 - 1947) is known primarily for her novels, many of which focus on midwestern farm life--a life she lived from the age of nine, when her family moved from Virginia to Nebraska, until she moved back East after graduating from college. But Willa wrote poetry, short stories, and essays, too, while working as a journalist, magazine editor, high school English teacher, and lecturer. Her original ambition was to be a doctor, but a professor's interest in and encouragment of her writing redirected her career path. There's an interesting account of Willa's thoughts on poetry here (she didn't think she was a very good at it), and an abundance of information on her at www.willacather.org.
trailpny:
I didn't know she'd written poetry, though not the kind that transends one's own time and place, but I read all her novels when I was younger, and loved them. She was a magnificent novelist, one of the first to tell the real pioneer stories without the romanticism that later followed.
Posted 01/10/2012 11:11 AM