white, adj. 1. Snow, snowy, snow-white
and over there, whiter than white
even the sky has been white for weeks
smoke from stacks, white-hot
against the white night, and on every
white birch, a hawk's breast,
hard as marble and white. 2. Snow-
white, pure, innocent, virginal.
Indeed , everything is betrothed
and everyone is color-blind, love-
blind, blind, blind, blind. 3. Snow-blind,
as they say in the far north where
they have those seven damn words for snow,
see: snow. 4. I am weary of chalk
and ivory, suspicious of anything creamy
or niveous. 5. Give me pallid, pale,
peaked, pasty, dull, dingy. Even dun.
6. I am desperate here where the crows
are colorless against the pure driven drifts
of snow, their breath albescent.
© by Jeanie Tomasko. 
Used with the author's permission.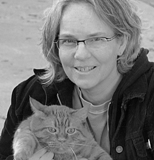 Jeanie Tomasko is a home health nurse in Madison, Wisconsin. Author of Sharp as Want (Little Eagle Press), a poetry/artworks collaboration with Sharon Auberle, and Tricks of Light (Parallel Press), Jeanie was almost an English major and enjoys a life of regret by writing poetry on the side. She enjoys all things nature, especially birds and long walks, and is currently having a long-distance relationship with E.E. Cummings.

wendy morton:
What a great idea that I may steal. And just a lovely: all this magic.
Posted 01/11/2012 10:56 AM
Ralph Murre:
Mighty fine, Ms. Jeanie, mighty fine.
Posted 01/11/2012 10:42 AM
Anjie:
This is great, Jeanie. I love, ". . . everyone is color-blind, love-blind, blind. . . " ~Anjie
Posted 01/11/2012 08:15 AM
ed werstein:
great poem Jeanie.
Posted 01/11/2012 07:38 AM
mimi:
Jeanie, love your synonym poems! such beautiful images in this...and of course, I had to go look up albescent, so I learned a new word! Sharon Auberle
Posted 01/11/2012 06:52 AM