after the tree I loved was cut
There is a log
that divides its time
— in lengths —
between being
a tree
and waiting to be
thrown on your fire.

© by Suzanne Comer Bell.
Used with the author's permission.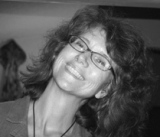 Suzanne Comer Bell is a writer and teacher of young children. In her twenties, she worked in book publishing, then became a freelance editor. Over the years, as she nurtured the words of others, Suzanne's own voice evolved. She began writing feature articles for regional magazines, and poetry, mostly for family and friends, and mostly for the sake of the feeling and beauty of the words. Suzanne lives with her husband and two daughters in Brevard, North Carolina.
apersephone:
Two track log! Love it!
Posted 01/23/2012 05:26 AM
comer4:
It's chilly here, too, and perfect weather to make good use of those logs. I think trees understand our need ... Suzanne in North Carolina
Posted 01/16/2012 05:05 PM
Eiken:
Lovely one Suzanne, I have lots stacked by the fire and am feeling a bit guilty now. Maire in a chilly Ireland. x
Posted 01/16/2012 07:58 AM