Our guide finishes his tour
at a shop that features
an artist who cuts paper.
Awards hang on the walls.
He asks for my birth year,
folds a small red paper in half
and begins to cut with scissors
smaller than we use for nails.
In less than ten minutes he hands me
a double dragon, delicate, precise.

He had no way to know
how alluring I find this
fanciful vision of hybrid life,
how I had been looking at guardian figures
on rooftops in Shanghai and Beijing for days,
counting them to gauge their owners' value.
Nine dragons for the Emperor,
fewer for anyone else. 

I carry my two red dragons humbly.
No matter how many lives I've lived,
I am no Emperor. Two is plenty for me.
© by Estella Lauter. 
Used with the author's permission.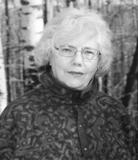 Estella Lauter began writing poetry in the 70s as a means of keeping the parts of her life as a mother, wife, professor, commuter, traveler, writer, sailor and woodland hermit together. In retirement on the Niagara Escarpment with her husband, she has turned to poetry to make sense of the world. She recently published two chapbooks with Finishing Line Press and tied for first place in the 2009 Barbara Mandigo Kelly Peace Poetry Contest of the Nuclear Age Peace Foundation. With grandchildren in Iowa and California, she still spends a lot of time on the road--visiting China for the first time in 2009.
transitions:
A wonderful poem to celebrate the Year of the Dragon! I, a mere and humble 'rabbit,' appreciates your skill. Judy
Posted 01/23/2012 02:14 PM
Ralph Murre:
No emperor, perhaps, but this poem rules!
Posted 01/23/2012 12:12 PM
Janet Leahy:
So nice to have travel wrap around you with a poem, thanks Estella
Posted 01/23/2012 10:44 AM
Jo:
Way to go Estella! How lovely to carry with you, your very own dragon--and now ours to imagine and celebrate too.
Posted 01/23/2012 10:22 AM
Gail Goepfert:
Estella, "hybrid life." So true it seems for you and so many. Another lovely poem inspired by your China trip. Two new chapbooks. Great!
Posted 01/23/2012 08:43 AM
dotief@comcast.net:
My daughter was born in the Year of the Dragon, and we were just talking about this very fact yesterday. Synchronicity at its best, I say! Thanks for the lovely poem. I am sending it to my daughter right now!
Posted 01/23/2012 08:31 AM
mimi:
wonderful and auspicious poem for the beginning of the Chinese New Year, the Year of the Dragon! thanks, Estella...Sharon Auberle
Posted 01/23/2012 08:22 AM