It is the bleakest of mornings
red-eyed, rumpled, and decidedly unrefreshed.
My right hip seems not to be working,
my left shoulder has a kink,
already a sinus headache is brewing
and, oh, Lord!
—

look at my hair!
Limping, snuffling, creaking, moaning,
I make my way toward the kitchen . . .

grope about in the dark for the kettle,
grope about in the dark for the tea tin,
turn on the stove, feel my spirits rise up
as I reach for a cup in needy anticipation.
Thank you, God, for the glorious gift of Earl Grey.
From She of the Rib (CRM Books, 2006).
Used with the author's permission.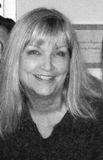 Jayne Jaudon Ferrer is the author of four books of poetry that focus on family life, one of which has remained consistently in print for more than twenty years. An award-winning copywriter and freelance journalist, Ferrer speaks frequently at women's and book events; her poetry and articles have appeared in publications ranging from Boca Raton Magazine to Christian Parenting Today. Jayne lives in Greenville, South Carolina, with her husband, three sons, two dogs, and eight chickens. Poetry makes her happy, as do flowers, old movies, good music, and hikes in the Blue Ridge mountains. Learn more about her at www.jaynejaudonferrer.com.
Jo:
Earl Grey is one of my favorite ways to start the day too, Jayne. My English friend and I, agree that it is the best way to take care of any aches and pains.
Posted 01/25/2012 06:56 PM
69Dorcas:
Sense of humor within the truth of a touseled morning. Thanks. Love it.
Posted 01/25/2012 04:56 PM
LindaCrosfield:
Earl Grey is the house blend at our place! Thanks, Jayne.
Posted 01/25/2012 02:01 PM
penhart:
Thanks, Jayne. I know about waking up wondering about that right hip, left shoulder, sinuses, and oh my, hair. Thanks for the reminder of how a hot cup of tea can change the beginning of a day---love Earl Grey . . . oh, and a good hot shower helps, too.
Posted 01/24/2012 08:28 PM
transitions:
Tea can make the impossible almost possible, especially in the morning. Empathy, Judy (loved your poem)
Posted 01/24/2012 05:57 PM
ghctenmile@earthlink.net:
Thanks, Jayne. What would life be like without a cup of tea?
Posted 01/24/2012 12:49 PM
wendy morton:
Bravo, from a rumpled fan. I think you should send this poem to a tea company( include their name) and ask for a year's supply.
Posted 01/24/2012 11:36 AM
marenomitchell:
Oh yes! My poem is "The Best Cup of Tea in the World," the cup of that accompanies writing a poem first thing in the day.
Posted 01/24/2012 10:19 AM
Janet Leahy:
Tea seems so civilized, Earl Grey in a china cup, a fine way to start the day.
Posted 01/24/2012 09:49 AM
mimi:
you must have been peering in my window, Jayne! good to see a poem of yours...love it!
Posted 01/24/2012 08:16 AM
mimi:
you must have been peering in my window, Jayne! good to see a poem of yours...love it!
Posted 01/24/2012 08:16 AM
dotief@comcast.net:
Well, haven't we all been here and felt like this?!? Thanks for a gentle reminder, Jayne, of how the little things make such a difference!
Posted 01/24/2012 07:58 AM
gigi:
Right there in the kitchen with you, Jayne, only substituting Trader Joe's New Mexican Pinion Bean coffee and time alone with a crossword.
Posted 01/24/2012 04:47 AM