Bear with me I
want to tell you
something about
happiness
itís hard to get at
but the thing is
I wasnít looking
I was looking
somewhere else
when my son found it
in the fruit section
and came running
holding it out
in his small hands
asking me what
it was and could we
keep it it only
cost 99 cents
hairy and brown
hard as a rock
and something swishing
around inside
and what on earth
and where on earth
and this was happiness
this little ball
of interest beating
inside his chest
this interestedness
beaming out
from his face pleading
happiness
and because I wasnít
happy I said
to put it back
because I didnít want it
because we didnít need it
and because he was happy
he started to cry
right there in aisle
five so when we
got it home we
put it in the middle†
of the kitchen table
and sat on either
side of it and began
to consider how
to get inside of it

From Bending the Notes (Main Street Rag, 2008).
Used with the authorís permission.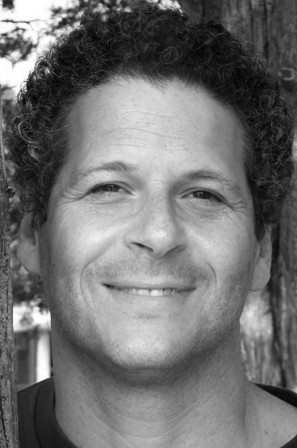 When he's not writing award-winning poems, Bostonian Paul Hostovsky makes his living as a sign language interpreter at the Massachusetts Commission for the Deaf and Hard of Hearing. He is the author of five chapbooks and three full-length poetry collections: Bending the Notes (2008), Dear Truth (2009), and A Little in Love a Lot (2011). To read more of Paul's work, visit www.paulhostovsky.com.
NMarie76:
This was recommended to me by a stranger over the phone at work, and it couldn't have come at a better time. Thank you, whoever you are.
Posted 08/09/2018 12:12 AM
69Dorcas:
Marvelous. How to get inside the thing that caused innocent happiness. So much so that the loss of it made a child cry. What a lesson. Thank you. Keep watching your little boy.
Posted 01/25/2012 04:59 PM
Jo:
Wonderful poem. I just love it. And just bought your book.
Posted 01/25/2012 03:15 PM
karenpaulholmes:
a sweet and wise poem. I like it's structure too.
Posted 01/25/2012 10:54 AM
wendy morton:
Joy, delight, coconuts. And hooray for Marvin's Produce for sponsoring this poem.
Posted 01/25/2012 10:54 AM
Nissepete:
This is just a lovely poem. What a sweet way to begin the day. Nils peterson
Posted 01/25/2012 09:08 AM
Ralph Murre:
Awwww, man . . . BEAUTIFUL!
Posted 01/25/2012 08:52 AM
Anjie:
Thank you, Paul. You really pull at my heart strings. ~Anjie
Posted 01/25/2012 08:26 AM
dotief@comcast.net:
I am there the whole time, only it is my grandson who finds the coconut/happiness. If only we all could keep that sense of wonder for our whole lives!
Posted 01/25/2012 08:19 AM
marenomitchell:
Good flow to a happy ending.
Posted 01/25/2012 07:52 AM
ed werstein:
What a wonderful poem.
Posted 01/25/2012 07:41 AM
Kay Sanders:
Who but a child could lead us to consider a ball of happiness and how to get inside it? A poet could. And did. Thank you.
Posted 01/25/2012 07:33 AM
tannerlynne:
every time I have read one of Paul's poems it has mde me happy. Thank you
Posted 01/25/2012 07:10 AM
jeanie:
I love !!! this poem.
Posted 01/25/2012 06:58 AM