The moon? It is a griffin's egg,
Hatching to-morrow night.
And how the little boys will watch
With shouting and delight
To see him break the shell and stretch
And creep across the sky.
The boys will laugh. The little girls,
I fear, may hide and cry.
Yet gentle will the griffin be,
Most decorous and fat,
And walk up to the milky way
And lap it like a cat.


This poem is in the public domain.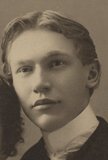 Nicholas Vachel Lindsay (1879 - 1931) was born in Springfield, Illinois to a close and devoutly religious family. His family hoped Vachel would become a doctor like his father, but he was drawn to art and poetry from an early age. Though he began self-publishing many years earlier, distributing his work for free and reading it wherever he could find an audience, his first poem wasn't "officially" published until he was 34. Vachel literally walked across the country for years, exchanging poems for food and lodging. His readings were bold, dramatic presentations, his poems typically focused on social issues, and the public loved him. Never very healthy, Vachel slowly succumbed to a manic-depressive disorder aggravated by debt and declining creativity; he killed himself by drinking cleaning solvent at the age of 52, leaving behind his wife and two young children.

apersephone:
I have always been fascinated by the idea of a griffin since I was a child, and had forgotten the mythical beast until now. Thanks for posting this piece!
Posted 02/05/2012 03:39 PM
lincolnhartford:
The poem's fancy is a delight to me. Comes and goes with no extra word, only a bit of hello and howdy do, but I shall look at the sky tonight, and remember to count the blessings.
Posted 01/28/2012 02:57 PM
Linda Lee (Konichek):
Great poem, so sad that so many creative people suffer from mental illnesses, which still carry such a stigma today!
Posted 01/28/2012 11:08 AM
dotief@comcast.net:
Fanciful, fun poem. Tragic poet's life. How some do suffer for the arts.
Posted 01/28/2012 10:41 AM
KevinArnold:
There's something insightful in with the way boys and girls will react to this griffin. Lindsay's biography is, like so many poets' bios, unsettling. Still, Jayne, another great find.
Posted 01/28/2012 09:01 AM
Katrina:
That's right, Gryff!
Posted 01/28/2012 07:48 AM