Those old Swede farmers in the long dark —
daylight only between noon and two —
what did they do after feeding the cows and horses?
coffee in the kitchen by a kerosene lamp
the blue enameled urn warm all day.
One could do some serious dreaming then
beside the wood-stoked stove.

In a corner,
the house elf too snores a small snore, while
the farmer's wife turns sweet cardamom-smelling
dough into rounds ready for the oven

Out by the frozen lake, a slow-blooded troll
on cold, heavy feet, watches the winter spirits,
creatures of ice and air, spin and turn and slide
upon the white skin of the black water.
© by Nils Peterson.
Used with the author's permission.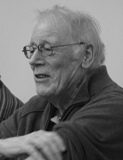 Nils Peterson is Professor Emeritus at San Jose State University. He has published poetry, science fiction, and articles on subjects as varying as golf and Shakespeare. In 2009, he was chosen as the first Poet Laureate of Santa Clara County. In 2011, A Walk to the Center of Things, his fifth collection of poetry, was published as the of Caesura Editions by Poetry Center San Jose. Learn more about Nils here.
dotief@comcast.net:
So nice. I am far and away in a world quite different from my Florida. Still, it is lovely to behold.
Posted 01/30/2012 08:15 AM
KevinArnold:
Yes, the elves and the trolls are but part of what it takes to survive such repetitive nights, I'm sure. Well done.
Posted 01/29/2012 06:35 PM
Glen Sorestad:
Very nicely done, Nils, a lovely blend of the remembered real and the fanciful that enters the poem so smoothly. Loved it.
Posted 01/29/2012 03:25 PM