Cool is the whisper
of white,
of whisker snow
so chinchilla-fur soft,
it is imagined on my cheek,
rosy, as inside I guard 
the windows of warmth,
the fireplace sparks,
in plaid-quilted comfort.
Outside, without lap-robes,
hosta stems stand at attention,
wrapped in albino coats.
They still the walkway,
freeze dry moments in linear pattern.
Stems sworded against blizzard skies,
they remain stalwart in cold resolve.
Like unsmiling Beefeaters,
they regard winter 
with respectful duty
as I salute them with sangfroid
from my cozy fort.
© by Marilyn Zelke-Windau.
Used with the author's permission.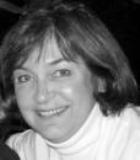 Marilyn Zelke Windau lives in Sheboygan Falls, Wisconsin, with her husband and year-old golden retriever. Recently retired from teaching art to elementary school children, she enjoys her newly free hours to write, give art center tours and workshops, garden, and draw. Her poems have appeared in several publications and she is a member of the Wisconsin Fellowship of Poets.
pwax:
"Cool is the whisper of white" -- great beginning! Phyllis
Posted 01/30/2012 10:34 AM
gjressmeyer:
Georgia Ressmeyer: You almost have me wishing for more snow, Marilyn, so I can den up in my own cozy fort and listen to the "whisper ... of whisker snow." Thanks!
Posted 01/30/2012 09:16 AM
dotief@comcast.net:
magnificent imagery!Great poem! I am glad to be inside as well.
Posted 01/30/2012 08:12 AM
tannerlynne:
the first few lines of this poem are so delicious i read them over and over... a lovely poem. And oh Marilyn, I am jealous also of your year old golden retriever...what fun
Posted 01/30/2012 08:04 AM
ed werstein:
nice one Marilyn!
Posted 01/30/2012 07:41 AM
Kay Sanders:
"Cool is the whisper of white," -- I love it, both the sound and the image!
Posted 01/30/2012 07:21 AM
Maryann Hurtt:
Great sounds...makes me feel the snow.
Posted 01/30/2012 06:32 AM