There is a crack in everything.
That's how the light gets in.
                                          ~ Leonard Cohen
There were times through the years, love,
I thought my heart would break,
times it felt rough around the edges
and since I wear it out there,
melting on my sleeve, you always knew,
while your heart was (mostly)
tucked away, steadfast and quiet,
though once I saw it naked in your eyes.

And didn't we both expect perfection?
That your heart would always speak
when I needed it
and that mine would hear
all of your unspoken words?
Maybe growing old is just learning
to cradle each other's heart in our hands
like broken baby birds
or snowflakes melting in fists of light.
From Crow Ink (Little Eagle Press, 2009).
Used here with the author's permission.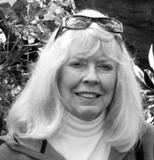 Sharon Auberle is the author of two books, Saturday Nights at the Crystal Ball: a Memoir in Poetry, and Crow Ink, a collection of her poetry and photographs. She loves water and winter, the subjects of many of her poems, and is happy to be back in the land of her roots, the Midwest, after nearly twenty years in the drought-stricken Southwest. Sharon has recently ventured into the world of recorded word, via her new CD, Something After Burning, which features poems from her forthcoming book by the same name, with music backup from some the finest musicians in Door County, Wisconsin. The CD is available for $10 plus $3.50 S. & H., from the author at P.O. Box 701, Sister Bay, Wisconsin 54234. When not writing or out in the woods, Sharon can be found on Facebook or hanging poems and pictures at her website--Mimi's Golightly Café. She freely admits that both take time away from her poetry. Learn more about Sharon here.
69Dorcas:
There seems to be a missed connection here, sad and beautiful. Was it ever?
Posted 02/05/2012 11:01 AM
transitions:
I couldn't 'open' this yesterday but today,- success! So glad I didn't miss it; poignant and lovely. Judy
Posted 02/02/2012 11:04 AM
mimi:
thanks so much, everyone! Sharon Auberle
Posted 02/01/2012 08:58 PM
loisflmom:
So tender,so lovely. Thank you, Sharon.
Posted 02/01/2012 04:50 PM
Linda Lee (Konichek):
The last two images just grabbed me, will stay with me for a long time-thank you so much,Sharon!
Posted 02/01/2012 01:19 PM
wendy morton:
Oh, delicous poem, Sharon. Yes, this is what growing old together is.
Posted 02/01/2012 10:40 AM
marenomitchell:
Tender truth! Thank you, Sharon.
Posted 02/01/2012 10:08 AM
LisaV:
Such a beautiful poem, thanks Sharon. "though once I saw it naked in your eyes." LOVE that line..
Posted 02/01/2012 10:08 AM
Jo:
Wonderful poem, Sharon. Did you ever hear Neal and Leandra sing "Old Love?" It speaks to these thoughts.
Posted 02/01/2012 09:39 AM
Donal Mahoney:
A poem like this should reach even the most removed of men even if they have nothing in their lives to mirror what's recounted. A wonderful poem wonderfully written.
Posted 02/01/2012 07:53 AM
dotief@comcast.net:
Really love the last lines and images! Wonderful poem!
Posted 02/01/2012 07:50 AM
ed werstein:
Wow. Fantastic, Sharon.
Posted 02/01/2012 07:41 AM
jeanie:
yes yes yes!! beautiful!
Posted 02/01/2012 07:26 AM
jeeger:
You've done it again! Just wonderful.
Posted 02/01/2012 07:15 AM
Maryann Hurtt:
Oh, Sharon...old love really is the best. Lovely.
Posted 02/01/2012 06:14 AM