I push
He pulls
He's in charge of the big pieces
I take care of the details
Now and then
One of us will stoop
To remove a stick or stone
Or a small treasure to keep

Our neighbor works alone
His blower is more efficient
But loud

We hum
© by Margaret Love.
Used with the author's permission.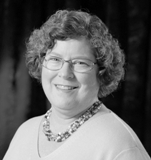 Margaret Love has over 20 years experience managing projects and project managers in information technology for the life insurance and utility industries. Long cross country flights give her plenty of time for reflection and writing. No books published – yet. A graduate of Charleston Southern University, Margaret lives in Greenville, South Carolina, with her husband and–sometimes–two young adult children.
69Dorcas:
I get the scene. Thanks.
Posted 02/03/2012 05:53 PM
tannerlynne:
yes!
Posted 02/03/2012 01:40 PM
transitions:
I love 'small' poems with 'life lessons' to remember...like this one. Thanks, Judy
Posted 02/03/2012 11:11 AM
mimi:
can so relate to this poem--I have two leaf/snow blowing neighbors who drive me nuts--will just have to hum, I guess!
Posted 02/03/2012 10:06 AM
Glen Sorestad:
Very nicely understated, Margaret!
Posted 02/03/2012 09:18 AM
Nissepete:
A lovely, sweet way to begin the morning. Nils peterson.
Posted 02/03/2012 09:14 AM
KevinArnold:
Margaret does, indeed, take care of the details.
Posted 02/03/2012 09:02 AM
Rob:
Love the comparison between the leaf blower and the rakes. I think the same thing about snow blowers vs. shovels. The latter are so much more peaceful and don't disrupt the beauty of the snow. Thanks for putting it into such lovely words!
Posted 02/03/2012 08:48 AM
LisaV:
what a sweet, lovely poem. Thank you Margaret!
Posted 02/03/2012 06:39 AM