Poet Profile: Brian Hohlfeld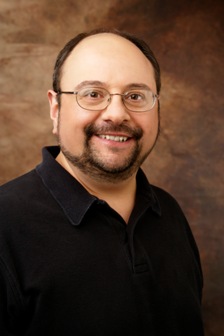 ©Disney Channel
Technically, Brian Hohlfeld is more of a poetry promoter than an actual poet (see Question 5 for more on that subject!); he's executive producer of Disney Junior's wonderful short-form series, "A Poem Is …". We thought it would be fun to see what led this screenwriter, songwriter, and director to share poetry with the preschool set.
As executive producer of the Disney Channel's Playhouse Disney series, "My Friends Tigger & Pooh," and writer of hit feature films "Pooh's Heffalump Movie," "Piglet's Big Movie," and two Disney home video releases, "A Very Merry Pooh Year" and "Pooh's Heffalump Halloween," Brian's connection with kids is strong. His connection with adults includes writing credits for Paramount's feature film, "He Said, She Said," starring Kevin Bacon, and Lifetime's "On the Second Day of Christmas," starring Mary Stuart Masterson.
Let's just say the man loves words and knows how to use them.
Why poetry?
Poetry is part of every day life—perhaps not formally, not everybody reads Emily Dickinson as part of their daily ritual—but in the sense that poetry is a way of looking at life, finding the odd small detail, being curious, asking questions and trying to come up with answers. All the things kids naturally do. Just like all kids know how to draw, I think all kids are also poets. They love playing with this new thing they've just learned called language. They like twisting it, singing it, making up words and putting different words together—all the things that "real" poets do. So if we can introduce the concept of poetry to them when they're young, and have them hear certain poems that have stood the test of time, hopefully we'll encourage them to hold on to and develop that natural attraction throughout their lives.
How did you come to be the producer of "A Poem Is...?"
I wish I could say that the project was my idea, but it was brought to me by my co-producer, Steve Arenas, the head of Post Production at Walt Disney TV Animation. He's a huge poetry fan, and for years he'd been informally pitching this idea of short pieces that match classic poems to existing Disney animation—to introduce poetry to children using familiar characters and imagery, to make it more accessible, fun, and less "precious." I was the Executive Producer of "My Friends Tigger and Pooh" when Steve mentioned the idea to me. I loved it—I always thought that if you could have music videos, you could have literary videos--and was the first person to ever say to him "Let's try it." So together with Jho Reyes, the editor on "MFTP," we put together two demos using footage from our show—"My Shadow" and "The Wind," by A.A. Milne. We showed them to Nancy Kanter, at Playhouse Disney (now Disney Junior), and she liked the idea enough to order a pilot consisting of five pieces and using celebrities for the narration. This turned into the 12 interstitials that we produced.
Do you have favorite poets or poems?
There are poets and poems that have been meaningful for me at certain stages of my life. When I was young, I liked Richard Brautigan and Yeats and Eliot—it's of course mandatory in your twenties to memorize "Prufrock," which I still love. But there are poems I go back to. "My Last Duchess" has always been one of my favorites, because it's so dramatic and mysterious. I've always thought it would make a great movie. "To His Coy Mistress" always makes me smile.

Nowadays I read Billy Collins, who can sometimes be a bit too self-conscious, but he writes very beautifully about mortality and the small moments of life, which have always been big themes with me, but more so as I grow older. His language seems simple and straight-forward—some would even say glib—but then he'll throw in a transcendent phrase that ties it all together and takes it to another level. And although Shakespeare isn't categorically a poet, who writes more succinctly or more beautifully? I like Raymond Carver's poems, although they're not what he's known for. They're in the same vein as Collins.

I also am a big fan of the Burma-Shave jingles that were used on roadside signs to advertise shaving cream in the 1930s through 50s. Perhaps because of the formal challenge, like haiku, of having to create a succinct story and imagery in only four lines of ABCB structure—and sell a product at the same time! My favorite is the one that hangs in the Smithsonian: "Within this vale/Of toil and sin/Your head grows bald/But not your chin."

Have you ever made a "poetry pilgrimage" -- i.e. a visit to the home of a poet, or to someplace that is closely associated with a particular poem--that was significant for you? How did the visit impact you?
When I was a boy I took the obligatory school field-trip to Eugene Field's home in St. Louis, where I grew up. I remember thinking how small it was. (Eliot is from St. Louis, too, but couldn't wait to get out.) I visited the Lake Country in England, and wandered lonely where Wordsworth saw his famous daffodils, but that wasn't the specific purpose of the trip. I've also been to Stratford-on-Avon. Perhaps the most inspiring visit was to Dicken's house in London—he's not a poet, specifically, but it is amazing to see that these famous authors worked in tiny rooms where they ate and slept, did normal everyday things, and re-wrote over and over again, just like we mere mortals.
In the great scheme of things, where does poetry fit in?
It's very, very important, as all art is. Even if people don't read poetry, or have ever seen a book of poems in their lives, the fact that there are certain people who ask questions of life and then try to answer them with language; who notice things that others don't—this works its way through the world, changes the way people see things, and elevates life for everybody.
Do you write poetry yourself? If not, do you do other types of creative writing?
In addition to "A Poem Is…," my other contribution to the world of poetry is that I stopped writing it. Professionally, I've been a screenwriter and sometimes playwright for 25 years. Though I haven't written poetry since high school, I do write song lyrics, which require the same economic use of language, imagery, point of view, etc. Whether any of them qualify as "poetry" is questionable. But there's nothing I admire more than a good lyricist. For my money, Johnny Mercer is as great an American poet as Robert Frost. In the dialogue of my scripts I like to use the odd or unexpected turn of phrase, which can sometimes take an entire scene to another—dare I say—"poetic" level. The same thing I admire in Billy Collins.
If so, what's the most absurd thing you've ever written a poem about?
I once wrote a poem about a girl's hair, and how she managed, goddess that she was, to part it perfectly down the middle. For some reason this is what made me fall in love with her. I suppose it spoke to me of a larger symmetry of character, or perhaps a willfulness of purpose. I even theorized that, in addition to a comb, she must have used a protractor. Fortunately, I can't remember what, if anything, I rhymed with "protractor." As I said, I haven't written poetry since high school.
If you write, when/where are you most inspired?
Ideas can come anywhere, but actually putting words down on paper is the hard part. I find that the mechanical act of writing itself—either with a pen or typing—opens the floodgates. If I'm stuck, I start by putting down what I have, and somehow this sparks new ideas. Writing begets writing.
Which classic poet would you most like to meet, and why?
I like to think I've met them and know them through their poems. I'm afraid I'd be disappointed to meet them in person. I can't imagine spending an evening with, say, Yeats. It would probably end in a heated political discussion and drunken brawling.
Is there some consistent trademark or characteristic that you've discovered you're drawn to in the poems you choose for "A Poem Is...?"
Most importantly, the poems have to be relatable to and be understood by our pre-school audience. Which means that they usually have to be about something specific and use simple language. There are a lot of so-called "children's poems" from the 19th century that are either way too flowery or deal with subject matter that may have been relevant to children then (death pops up a lot). Which is not to say we want to spoon feed our audience, either, or talk down to them. We want to stretch their experience, acquaint them with hearing spoken poetry even if they don't understand every word. But we also want to entertain them, otherwise we're not giving them a positive poetic experience they can take away. We also choose poems that we think will work with animated imagery behind it—we have to be able to "see" how the poem will work, or come up with an idea that will play with it—for example, the decision to use farcical animation behind "Home Sweet Home" and play it for the comic irony, which, ultimately, reinforces the theme of the poem even more. It may not always be sweet, but it's home.
We're grateful to Brian for taking time out of his schedule to share his thoughts with us, and we urge you to tune into "A Poem Is . . ." on the Disney Junior Channel. Make sure all the children in your life are aware of this delicious taste of the wonderful world of poetry!