Poet Profile: Bruce Dethlefsen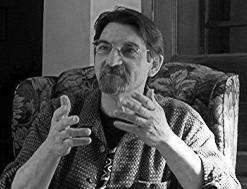 Wisconsin's current poet laureate, Bruce Dethlefsen grew up in Kansas City, Missouri. A musician (he sings and plays bass and percussion) and juggler (he claims to have taught more than a thousand people that fine art!) as well as a writer, Bruce worked as a librarian for many years. Now retired, he is the author of two chapbooks, A Decent Reed (Tamafyr Mountain Press, 1999) and Something Near the Dance Floor (Marsh River Editions, 2003), and one full-length book of poetry, Breather (Fireweed Press, 2009), which won the Outstanding Achievement Award in Poetry from the Wisconsin Library Association.



Why poetry?
Poetry shows us the best place to crack nuts. Most poets are nuts. Some nuts are more cracked than others.
How did you come to be a poet?
I used to dance with my mother in the kitchen to the funny songs she made up. And I found a book of ancient Chinese poetry in the attic. Li Po spoke to me.
Do you have favorite poets or poems?
My favorite poets are Marge Piercy, Billy Collins, and Christina Rossetti.


What's the most interesting "poetry pilgrimage" you've ever made?
I love going to the Geraldine R. Dodge Poetry Festivals.
In the great scheme of things, where does poetry fit in?
Right between Samuel Barber's "Adagio for Strings" and Rodin's "The Kiss."
Describe your writing routine and/or process.
I'm inspired by reading, regarding, and remembering, in that order. I write morning pages everyday (thank you, Julia Cameron). I write my first few drafts by hand, then revise each poem on the word processor.
What's the most absurd thing you've ever written a poem about?
Lawton Otter and what he shouldn't ought to have eaten.
When/where are you most inspired?
I'm most inspired by reading other poets. It's like they give me a free day pass to the cosmic swimming pool with an invitation to "jump in."
Which classic poet would you most like to meet, and why?
I'd like to traipse along with Rumi on a weekend trip….just to listen.
Is there some consistent trademark or characteristic that you've discovered in your poetry?
I try to put a "lemon drop" in each poem, something that only I understand.
Anything else you'd like to share--advice, anecdotes, forthcoming adventure, etc?
I'll be promoting the wonderful poets and poetry of Wisconsin during the next two years as Wisconsin Poet Laureate.
Bruce leaves us with this marvelous metaphor: "If a novel is winter, and a short story is a snow storm, then a poem is a snowball, squeezed."
Many thanks to Bruce for his time and reflection on these questions. Read more of his wonderful poems in the YDP archives and learn more about him at his website, www.brucedethlefsen.com.