She can't come

 

 

 

 

 

Used with the author's permission.
Purchase a framed print of this poem.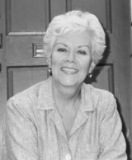 Aimee Wise lives in Decatur, Georgia. Newly come to writing poetry, "it seizes me in random moments," she says, "insisting I capture the ticker-tape words that spill from an unknown place." As a writer of memoirs, Aimee has discovered her poems are often memoir as well and declares that, at this stage of her life, whatever form it may take, "writing is my joy."
John M:
Aimee, I just happened to find this. What a pleasant surprise. Loved the poem, but more especially loved your new found talent. May the Muse visit you often. John M
Posted 08/07/2013 03:40 PM
Eiken:
Wonderful Aimee, so uplifting and a great time of year. Maire x
Posted 03/24/2012 02:14 PM
LisaV:
very lovely...thank you!
Posted 03/24/2012 10:48 AM
69Dorcas:
Usually artists gravitate to other disciplines. A lovely poem indeed.
Posted 03/24/2012 06:58 AM