It's not my feet atop yours dancing the polka

at Cousin Patsy's wedding. It's not the photo of us sitting

on the couch that shows our identical chins and slouch

to our backs. It's the mustard, Dad, the plain yellow mustard



that brings you back to me, every time. One taste

and we're at Soldier Field, wind blowing off Lake Michigan

like boos from the rival fans. Season tickets, home games,

our long walk from the car to the stadium,



Section A, upper deck, seats hard and cold.

Though bundled in long underwear, two layers

of woolen socks in thick-soled boots, we had to stomp

our feet to keep the circulation going.



We'd yell over the crowd at the concession man,

"Over here, some dogs!" And we waited

as he pulled them out of his silver box, watched

the steam fade, seat by seat, as they were passed



down to us. By the time we took a bite, ice cold.

They were the best dogs we ever ate, and those,

the best days – just the Bears, the crowd, and you

smiling at me, your mouth rimed in mustard.

Used with the author's permission.
Purchase a framed print of this poem.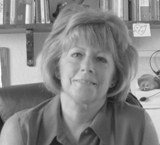 Donna Pflueger lives in the high desert of Cottonwood, Arizona where her inspiration to write occurs by simply stepping outside. An avid walker, she finds the steady rhythm helps her create. Her husband, John, of 35 years and dog, Lewie, are her constant writing companions; one listens and critiques her work, and the other sleeps right through it. Donna's poetry has appeared in Your Daily Poem, All Things Girl, Mobius (where she won the 2011 Editor-In-Chief's Choice Award), The Poetry Magazine, and is upcoming in The Healing Muse.
New comments are closed for now.
marenomitchell:
Can't relate to the cold or the games, but anyone can relate to the living love. Most beautiful poem.
Posted 06/18/2012 04:53 PM
Jo:
Donna, a wonderful poem. From the "It was the mustard,Dad, the plain yellow mustard" I was hooked. Thank you.
Posted 06/17/2012 09:39 PM
angierdh:
Loved the line "like boos from the rival fans". Such a clear image that I felt like I could hear the cold winds blowing!
Posted 06/17/2012 02:47 PM
Anjie:
Love the poem, Donna! I like that little image of the steam fading as the hotdogs were passed down. Lovely detail! I can feel the love you have captured here. Anjie in WI
Posted 06/17/2012 09:36 AM
Kathryn:
Also, Donal, I love your idea that the football game was a "second church." Indeed. I even remember the priest indicating that the sermon would be short so we could relax knowing we'd be home in time for the game. Proud McAuley alum here...
Posted 06/17/2012 08:47 AM
Kathryn:
As a girl, I went to a Redskins game alone with my Dad in 1987, the year after our glorious Superbowl win. It was so cold that stomping did nothing, and my Dad actually took off my boots and put them under his coat and under his armpits to warm them up enough for me to keep me from crying. Thank you for making me remember that. I miss him dearly.
Posted 06/17/2012 08:31 AM
dotief@comcast.net:
I love the play on words with the title. And then the images were so bright and real. Wonderful tribute. Wonderful love poem!
Posted 06/17/2012 08:15 AM
Donal Mahoney:
This is a terrific poem that may have more meaning for me than many since I was born, weaned and worked most of my life in Chicago. Soldier Field was a second Church people I knew went to on a Winter Sunday after Mass to watch the Chicago Bears. The hairs in one's nose froze from arrival to departure. Watching the Bears was great but to be there when one's high school was playing for the City Championship made the hot dogs taste even better provided they won. And invariably Mount Carmel H.S. won. Thanks, Donna, for taking me back in time.
Posted 06/17/2012 04:20 AM