There they are, in the yard
of the house down the street.
They wave like mad as I drive
to the grocery store, to the library,
to dinner out on a Friday night.
They drop the ball, the stick
that's slaying a fiery dragon—
whatever they're doing and they
wave as if someone waving back
meant everything.
And then, sometime around thirteen,
they stop. They turn cool, quiet,
aloof and they don't wave as I drive
to the doctor, to the grocery store,
to an appointment I hate to keep.
There is no hand raised like a flag
that says, "Hey, I'm here and so are you." 

But wait. Grown men in ball caps
driving trucks hauling hay
or lumber or an old lawn mower
that'll never run again raise a finger
from the top of the steering wheel
and they tilt their heads—
up now down in a salute that says,
"Hey, I'm still here and I see,
somehow, you are, too."
© Sarah Anne Loudin Thomas.
Used with the author's permission.
Purchase a framed print of this poem.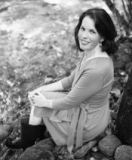 Sarah Loudin Thomas grew up on a 100-acre farm in French Creek, West Virginia, the seventh generation to live there. Her writing celebrates the people, land, and heritage of Appalachia, and her first novel,Miracle in a Dry Season, was released in August 2014. Sarah currently oversees fundraising and communications for a Christian children's home in Black Mountain, NC. She and her husband Jim live in the mountains of Western North Carolina, where Sarah is active in her local church and enjoys cooking and reading.
New comments are closed for now.
pwax:
There's something about this poem that makes me long for that place. Nice work!
Posted 10/04/2014 10:33 AM
Sherry:
I think it's small towns, but only in the South.
Posted 10/03/2014 04:22 PM
Cindy:
My brother lives in Alabama and he said there people even wave at the dogs.
Posted 10/03/2014 09:03 AM
rhonasheridan:
I wave from trains! Reading washing lines is fun too. Washing machines take away that pleasure.
Posted 10/03/2014 01:14 AM