I walk and meditate, and I'm famished.
My husband returns from swimming laps.
With unplanned synchronicity
we take our places in the kitchen.
He hoards the cutting board,
slices a peach and banana.
I prepare coffee. We pivot for a
choreographed collision at the refrigerator,
him for almond milk, me for an egg and jam.
We exchange no words, for
we are dangerous before we eat.
With our preparations complete,
I covet his bowl of cereal and fruit,
and he eyes my lightly-over egg and toast.
Safely seated in a no-chatter zone,
we take favored newspaper sections.
Earlier I meditated on wherever I go, there I am.
My mantra shifts: wherever I go, there he is.



From
Biting The Apple,
by Jeanie Greensfelder (Penciled In, 2012
).
Used here with the author's permission.
Purchase a framed print of this poem.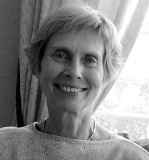 Jeanie Greensfelder grew up in St. Louis, Missouri, but now lives on

the central coast of California with her husband Andy

. A psychologist, she says she "seeks to understand herself and others on this shared journey, filled, as Joseph Campbell said, with sorrowful joys and joyful sorrows."
Jeanie volunteers as a bereavement counselor at Hospice of San Luis Obispo County.
Her poetry has been published in Riptide, Echoes, Porter Gulch Review and other journals, and can be seen monthly at
http://slocoastjournal.com/docs/geniespocket.html.
wyantjl42:
Boy, do I resonate with the content of this poem and also with its quiet humor.
Posted 03/02/2013 07:29 PM
Minklady:
One of my favorite poems from your wonderful book... I especially love the line " We are dangerous before we eat."
Posted 02/22/2013 12:48 AM
debrabruce:
I love this. A nice bite st the end--thank you. Debra Bruce
Posted 02/21/2013 03:19 PM
wendy morton:
The sweet ordinary events of life in this celebratory poem. So spare, so true.
Posted 02/21/2013 11:24 AM
Eve:
Ah! Thanks for the smile.
Posted 02/21/2013 11:01 AM
transitions:
enjoyed this most thoughtful poem with it's memorable last line; thx ~ Judy
Posted 02/21/2013 10:54 AM
Glen Sorestad:
A very fine concluding line, Jeanie -- momentarily takes the breath away.
Posted 02/21/2013 09:57 AM
KevinArnold:
Ah yes, the semisweet moments of a long relationship between two careful people, seldom chronicled.
Posted 02/21/2013 09:12 AM
islandspirit:
Wonderful. Gave me an unexpected early morning laugh.
Posted 02/21/2013 08:56 AM
Dorcas:
A marital revelation. Getting it off one's chest.
Posted 02/21/2013 05:13 AM