There's a thread you follow.
--From "The Way It Is" by William Stafford
I hold out my arms. Mother
puts coils of yarn around them.
Starting with a thread,
she winds ball after ball,
colors for her afghan.
I did not know then
that life holds out its arms
and starting with a thread,
I knit my story.
© by Jeanie Greensfelder.
Used with the author's permission.
Purchase a framed print of this poem.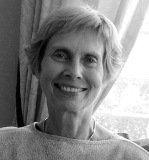 Jeanie Greensfelder grew up in St. Louis, Missouri. A psychologist, she seeks to understand herself and others on this shared journey, filled, as Joseph Campbell said, with sorrowful joys and joyful sorrows. Living on the central coast of California with her husband Andy, Jeanie volunteers as a bereavement counselor at Hospice of San Luis Obispo County. Her poems have been published in Riptide, Echoes, Porter Gulch Review, and others and can be seen monthly at

http://slocoastjournal.com/docs/geniespocket.html

.
chris schulz:
Simple and deeply profound at the same time, thank you Jeanie!
Posted 04/29/2013 10:39 AM
linda:
what a gift to be able express our life path with such perfected simplicity
Posted 04/29/2013 10:05 AM
MaryLeeHahn:
Love this!
Posted 04/28/2013 04:25 PM
Janet Leahy:
With an economy of words, a beautiful poem.
Posted 04/28/2013 12:54 PM
Dorcas:
Lovely, terse, full of reflective impression and expression subsequently. So precisely full of the milk of humaness.
Posted 04/28/2013 11:13 AM
KevinArnold:
Fine poem.
Posted 04/28/2013 10:19 AM
Nancy Simpson:
Simple and profound, the kind of poem I shall always prefer.Thank you, Jeanie.
Posted 04/28/2013 10:08 AM
Jo:
Beautiful and meaningful. Thank you.
Posted 04/28/2013 09:57 AM
TheSilverOne:
So much in so few words....insightful.
Posted 04/28/2013 09:36 AM
peninsulapoet:
Beautiful, simple, profound.
Posted 04/28/2013 09:14 AM
erinsnana:
Beautiful poem!
Posted 04/28/2013 09:14 AM
erinsnana:
Beautiful poem!
Posted 04/28/2013 09:13 AM