Grandma said she was kicked out
when she was a young girl
around the waxed wood flooring.
†around and around the hall
they are dizzy with delight,
Chased out of the dance hall
†in the dark empty street.
whirling all the way home.


†
This poem first appeared in Westview: A Journal of Western Oklahoma (2006).
Used here with the authorís permission.
†
Purchase a framed print of this poem.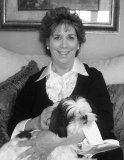 Barbara Eknoian lives in La Mirada, California. From her store of vivid memories, she writes a lot about her growing-up years. Originally from New Jersey, she was forever homesick until she joined Donna Hilbertís poetry workshop in Long Beach. Barbara was the first recipient of the Jane Buel Bradley Chapbook Award for her collection,†Jerkumstances†(Pearl Editions).†
JudithStanton:
I'm a poet too and spinning in the moonlight is one of my favorite things to do in poems and life. I'm adding twirling to my repertoire both places! Love author pics with handsome pets!
Posted 07/27/2013 03:01 PM
peninsulapoet:
I always love Barbara's poems.
Posted 07/27/2013 09:54 AM
erinsnana:
I love the palpable spirit in this poem!
Posted 07/27/2013 09:25 AM
KevinArnold:
Ah yes Too young to Think about consequences They are giddy with delight.
Posted 07/27/2013 09:00 AM
Havenwood:
This reminds me of stories that my Grandmother used to tell me! I was swept away in the energy of your descriptions!
Posted 07/27/2013 08:44 AM
dotief@comcast.net:
Wonderful!
Posted 07/27/2013 08:20 AM
Janet Leahy:
I love the way the dance continues out of the dance hall around the lamplight, the energy of the dance whirls through the poem.
Posted 07/27/2013 08:12 AM
Larry Schug:
This poem is like watching a video-very visual. It makes me feel like I'm in the dance hall. Nice!
Posted 07/27/2013 07:56 AM
mimi:
love this! my grandma talked about dancing till the day she died... Sharon Auberle
Posted 07/27/2013 07:44 AM
TheSilverOne:
What wonderful memories this grandma has! Easy to envision two young girls, loving life, enjoying their youth and energy.
Posted 07/27/2013 05:36 AM