A suckling babe asleep on mother's breast
A sleeping grandson slumped against his grandpa
A poet dozing in his lover's arms
A business man napping in a barber's chair
A migrant worker snoring in a bouncing pick-up on a country road
A slumbering soldier oblivious to shellfire and smoke
Peace, deep peace is birthed inside the abyss of sleep
Repose is gentle waves and sea birds in home port
Where, beyond, the scent of pines seeps across the sandy beach
© by

Yearn Hong Choi

.


Used with the author's permission.
Purchase a framed print of this poem.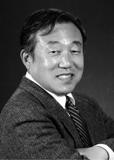 Yearn Hong Choi was born in Korea and immigrated to America in 1968. The author of seven books of poetry, a memoir, three anthologies, and many essays and short stories, he has also been a columnist for several major newspapers including The Washington Post, The Los Angeles Times, The Japan Times, The Korea Herald, and The Korea Times. Founder of the Korean Poets and Writers Group and the Korean-American Poets' Group in Washington, DC, in 1994, Yearn became the first poet from Korea to be invited to read at the Library of Congress. Now retired, he served as executive director of the Korean PEN Center, worked for the federal government, and taught at several universities. Yearn lives in Fairfax, Virginia.
Katrina:
I love the way Yearn does not subdue images, which taste grubbily in need of sleep's resuscitation. Thank you for a short but thorough view of the cycle of fatigue.
Posted 10/10/2013 08:45 AM
KevinArnold:
Image, image, image, even an olfactory image. Works.
Posted 10/10/2013 07:04 AM