Up in the attic where I slept
When I was a boy, a little boy,
In through the lattice the moonlight crept,
Bringing a tide of dreams that swept
Over the low, red trundle-bed,
Bathing the tangled curly head,
While moonbeams played at hide-and-seek
With the dimples on the sun-browned cheek ?
When I was a boy, a little boy!

And, oh! the dreams ? the dreams I dreamed!
When I was a boy, a little boy!
For the grace that through the lattice streamed
Over my folded eyelids seemed
To have the gift of prophecy,
And to bring me glimpses of times to be
When manhood's clarion seemed to call ?
Ah! that was the sweetest dream of all,
When I was a boy, a little boy!

I'd like to sleep where I used to sleep
When I was a boy, a little boy!
For in at the lattice the moon would peep,
Bringing her tide of dreams to sweep
The crosses and griefs of the years away
From the heart that is weary and faint to-day;
And those dreams should give me back again
A peace I have never known since then ?
When I was a boy, a little boy!

This poem is in the public domain.
Purchase a framed print of this poem.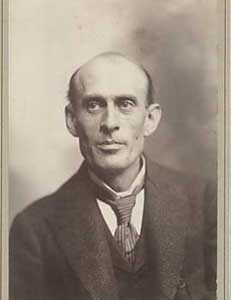 Eugene Field (1850 -1895) was born in St. Louis, Missouri, raised in Amherst, Massachusetts, and spent most of his adult life in Chicago. Best known for his children's poetry and humorous essays, he explored acting and law before turning to a very successful career in journalism. Eugene lost both parents before he was 20, buried three of his eight children, and died himself when he was only 45. He nonetheless seemed to have a happy and satisfying life, publishing more than a dozen books and forever endearing himself to the world?s children by penning such classic poems as ?The Duel" and ?Wynken, Blynken, and Nod."
Eugene?s home in St. Louis
is preserved and open to the public.
New comments are closed for now.
Jean D:
My mother read Field's poems to my sister & I at bedtime. My favorite was "Wynken, Blynken & Nod". Also his poem about "Bill", because I had a cousin named Bill. My mother was the family poet.
Posted 11/16/2013 08:09 PM
LindaCrosfield:
Hearing Field's "Little Boy Blue" was a pivotal childhood moment for me. And I'd never read this one before. Thanks!
Posted 11/16/2013 04:04 PM
TheSilverOne:
Always enjoyed his poetry, his pleasant rhyming, thoughtful words.
Posted 11/16/2013 09:14 AM
Wilda Morris:
Eugene Field was one of my favorite poets when I was a child, but I don't remember this one, probably because it isn't really a children's poem. Thanks for including it!
Posted 11/16/2013 07:54 AM
fer:
SO sorry about the triple posts. I kept getting 'page not found', and then suddenly THREE posts!
Posted 11/16/2013 07:49 AM
dotief@comcast.net:
This is such a wonderful poem. I was not overwhelmed with its structure, and its images were so clear and pure! Loved it.
Posted 11/16/2013 07:36 AM
fer:
My father loved Eugene Field's poetry and used to read them to me, but I've never heard this one before. Thanks for bringing up some memories with a new 'old' poem.
Posted 11/16/2013 05:34 AM