© by Kelly DeMaegd.
Used with the author's permission.
Purchase a framed print of this poem.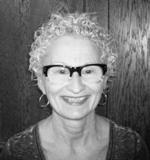 Kelly DeMaegd lives in Sherrills Ford, North Carolina, with her husband, a Frisbee-crazed German Shepherd, and a herd of deer that are not too shy to eat every flower and vegetable in her garden.
twinkscat:
Beautiful!
Posted 02/08/2014 07:02 PM
erinsnana:
Lovely!!
Posted 02/08/2014 04:36 AM
TheSilverOne:
Beautiful!
Posted 02/07/2014 09:00 AM
paradea:
Love this poem, Kelly. Keep up the good work!
Posted 02/07/2014 07:51 AM
Ross Kightly:
I neglected to comment: GREAT TITLE!!
Posted 02/07/2014 05:11 AM
Ross Kightly:
A perfect poem of simple and moving juxtapositions - the flowers and the inhospitable setting, the hands and heart. Thank you Kelly and Jayne for reminding us how it can be.
Posted 02/07/2014 04:56 AM