© by Larry Schug.
Used with the author's permission.
Purchase a framed print of this poem.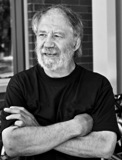 Larry Schug, after a work life of various kinds of manual labor and learning, is retired—a career he says he was born for. Author of seven collections of poetry, including his newest—At Gloaming, just out this spring—Larry is a volunteer writing tutor at the Writing Center at the College of St. Benedict and a volunteer naturalist at Outdoor U. at St. John's University. He lives with his wife, dog, and three cats near a large tamarack bog in St. Wendel Township, Minnesota.
shendric:
Impressive and fun to read!
Posted 04/20/2014 11:53 PM
jtmilford:
your poem using both words and form has an ancient archeological feeling and message. Thanks for showing how form and words can work together.
Posted 04/19/2014 09:41 PM
msruff:
Nice form.
Posted 04/19/2014 01:07 PM
Donna Pflueger:
Larry, your incredible poem is like an ancient chant. When one reads it out loud, the chest vibrates - near the heart. Even the end line reaches down with its own continuous sound. Thank you for sharing it.
Posted 04/19/2014 10:47 AM
Jo:
Thanks Larry.form and conten are a happy pair here. Well done.
Posted 04/19/2014 09:59 AM
Cindy:
bare bones of a poem telling so much - awesome
Posted 04/19/2014 08:44 AM
laurasalas:
Gorgeous in form and feeling!
Posted 04/19/2014 08:22 AM
paradea:
I like what this poem says, Larry!!
Posted 04/19/2014 07:19 AM