Helen Keller
1880 – 1968
Deaf and blind author
and political activist


Descending through the roaring silent sea
Of blackness, I don't know what I don't know.
I am alone, there's no one else but me.

Which way is up? What dread adversity
Prevents me seeing either friend or foe,
Descending through the roaring silent sea?

Then, swimming into my vicinity,
A hand—a teacher's hand!—that won't let go.
I'm not alone, Anne Sullivan's with me!

The hand maiden of fellow feeling, she
Signs "water," the first word in my talk show,
Ascending through the roaring silent sea.

I cannot learn enough! Her art sets free
Words painted on my hand, her studio.
I'm not alone, Anne Sullivan's with me.

Blind-deaf, I earn a Bachelor's degree,
And bow to her for my portfolio.
Ascending through a roaring silent sea,
I'm not alone now. All the world's with me.
© by J. Patrick Lewis.
Used with the author's permission.
Purchase a framed print of this poem.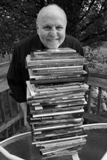 J. Patrick Lewis was the U.S. Children's Poet Laureate from 2011-2013. Author of nearly 100 children's picture/poetry books, and veteran of more than 500 visits to elementary schools around the world, J. Patrick spent many years as an economics professor before becoming a full-time writer. A resident of Westerville, Ohio, he is a twin, a fact he says "has shaped my life indelibly and delightfully from the womb." Pat is also the author of a collection of poetry for adults, Gulls Hold Up the Sky, and a nonfiction poetry primer for teachers. Learn more about him at www.jpatricklewis.com.
New comments are closed for now.
rhonasheridan:
An amazing poem, it seems to be an exact sensation - to me anyway, but I am fortunate in that I can see and hear. I keep reading it.
Posted 06/28/2015 02:11 AM
ldk:
"I'm not alone now. All the world's with me." Oh, I love this poem-- especially the last line! Thanks for this, Pat!
Posted 06/27/2015 03:46 PM
transitions:
She must have been a saint to endure all of that and survive it so long. If not, she is now ~ fine poem.
Posted 06/27/2015 01:42 PM
Lori Levy:
"The roaring silent sea of blackness" really captures how frightening it must have been for Helen Keller and how amazing that she was able to "ascend."
Posted 06/27/2015 10:48 AM
Wilda Morris:
A wonderful form for this subject. Well-done.
Posted 06/27/2015 07:17 AM
Supa:
Thought provoking. So well written. This is a wonderful poem about an amazing person. I' have to find more poetry by J.Patrick Lewis.
Posted 06/27/2015 05:38 AM