© by Ivan Jenson.
Used with the author's permission.
Purchase a framed print of this poem.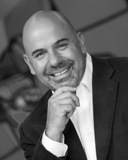 Ivan Jenson is an artist and writer who lives in Grand Rapids, Michigan. His poems have appeared in numerous publications and his artwork has appeared in national magazines and ad campaigns. Ivan enjoys reading, running, walking his dogs, music videos, and strong coffee.  Learn more about him at www.IvanJenson.com.
Sondy Squirrelly:
Bravo
Posted 07/05/2015 09:45 AM
transitions:
Perfect and on-the-money true. If I never hear another word about the 'Kards' I will be extremely Grateful. Thanks, Ivan.
Posted 07/03/2015 12:18 PM
msruff:
Ouch!!
Posted 07/03/2015 10:19 AM
rtaylor947@aol.com:
Wish I'd written that.
Posted 07/03/2015 09:42 AM
paradea:
Great!!!This one hits the nail on the head of waste-of-time knowledge. Trash in...trash out!!!
Posted 07/03/2015 09:36 AM
Wilda Morris:
The poet certainly nails much of our culture.
Posted 07/03/2015 07:48 AM
phebe.davidson@gmail.com:
Jenson's poem leaves one tempted to say Amen!
Posted 07/03/2015 06:07 AM
Supa:
Cynical.
Posted 07/03/2015 12:28 AM