The faithful start this day sitting
on planked benches, watching  musicians
gather one at a time on the far stage
Irish Breakfast Tea steeps in our cups  
We hold soda bread wrapped in paper napkins
This is not Bewley's on St. Stephens's Green
At the thrum of the bodhran all lean forward
as one body giving a foot-stamping
hand-clapping welcome to the drum's insistent beat
Uilleann pipes wail   Flutes trill
The concertina weaves familiar melodies
Morrison's Jig and McCloud's Reel
slips and horn-pipes wind around us 
enclosing players and listeners
in a whirl of song and sound
We all watch the fiddler, weaving
and swaying her way through tune
after tune and are not content until she stands
before us, body bent into her own music
bow stroking the strings  She creates for us
a quiet space     a hush for us to enter 
And takes us to the hills of Connemara,
the sweep of Dublin Bay and the harbor of Cobh,
beginnings and endings
evoking memories and stories of life
across the sea and our own time and place
Now it is my grandmother's sweet tea with milk
that cools in a saucer before me
and Mother's feet jigging in place as they did
when she grew too old to dance
I sit in an August sun softening into autumn 
The music caresses me
the song of the fiddle opening  my heart
© by Kathleen Phillips.
Used with the author's permission.
Purchase a framed print of this poem.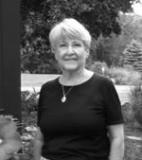 Kathleen (Katy) Phillips is a wife, mother, grandmother, former teacher and current creator of poetry and children's literature. Writing didn't enter her life until she was in her mid-sixties, but has provided a wealth of excitement and learning ever since. Katy has written eight books of poetry (which she handcrafts and sells locally), is active in a poetry critique group, and has had work published in a number of journals and anthologies. After 35 years in the country, Katy and her husband now live in Milwaukee, which they find "welcoming and full of life."
Maryann Hurtt:
Katy, you got it just right! Thank you.
Posted 08/15/2015 07:54 AM
vscholtz:
"A whirl of song and sound" indeed. You paint a picture that I can hear.
Posted 08/15/2015 07:07 AM
transitions:
"A quiet space, a hush for us to enter-" wonderful line...beautifully wrought poem. This Scot loved it :) Judy W.
Posted 08/14/2015 12:20 PM
Jo:
Oh, how lovely. Having tea and soda bread, the music. Thanks, Katy.
Posted 08/14/2015 10:16 AM
Janet Leahy:
A lovely way to start the morning, hearing the music of your poem, tasting tea and soda bread, wonderful images, thanks Katy.
Posted 08/14/2015 10:02 AM
Cindy:
Those last few lines especially got me.
Posted 08/14/2015 09:20 AM
cork:
"a quiet space" surprised me. Lovely!
Posted 08/14/2015 08:43 AM
Larry Schug:
These words beautifully take the reader away from where he or she is; exactly what good poetry is supposed to do.
Posted 08/14/2015 08:04 AM
John:
Celtic music stayed in lines. A fine musical poem.
Posted 08/14/2015 07:48 AM
tiddles:
Body bent into her own music, sun softening into autumn, the fiddle opening my heart...beautiful images.What a wonderful poem, Katy. Perhaps we'll see you at Irish Fest tomorrow! Marilyn Windau
Posted 08/14/2015 07:19 AM
paula:
Joyous, musical, great!
Posted 08/14/2015 07:14 AM