My mother spreads tinsel snow over the kitchen sills,
sets the cedar manger in its place, arranging

the hollow plastic magi next to a cradle
displaying the baby Jesus missing an arm.

The little enameled figure of Mary kneeling
embraces something only she can see. Pinned to the banister,

our crocheted stockings sag. All afternoon
she listens to laundry click in the pantry dryer,

packing layers of chocolate cake and home-made cream
into Tupperware for the Heath-Bar trifle we love.

Light moves across the counter, almost touching her hand,
shattering over an open drawer of knives.
From "Snapshots 1," Other Latitudes (University of Akron Press, 2008).
Used with the author's permission.
Purchase a framed print of this poem.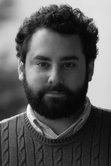 Brian Brodeur was born in Worcester, Massachusetts in 1978. He has worked as a musician, teacher, waiter, editor, and library specialist. He is the author of the poetry collection Other Latitudes (University of Akron Press, 2008), and the poetry chapbook So the Night Cannot Go on without Us (2007). Brian maintains the blog "How a Poem Happens" (http://howapoemhappens.blogspot.com), an online anthology of poems and interviews with contemporary American poets. He lives and works in Fairfax, VA.
There are no comments for this poem yet.