My friend's kid runs the sideline, gets a pass,
turns, and scores with a kick to the near post.

It's how the play should go, but at this age
rarely does.  My son sprints to him, arms up.

They high five and celebrate a moment,
then turn to jog back to their positions.

Last year, they would have hopped around madly,
twirled, fallen backwards, and rolled in the grass.

This season, they are serious.  No more
skipping.  No more acting sweetly goofy.

Now, they turn towards one another rather
than towards us.  No more checking that we've seen.

But we have.  We know the score, and what's lost
as they try to turn themselves into men.


From This Miraculous Turning (Press 53, 2014).
Used with the author's permission.
Purchase a framed print of this poem.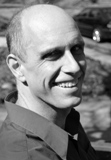 Josephe Robert Mills is a faculty member at the University of North Carolina School of the Arts, where he holds the Susan Burress Wall Distinguished Professorship in the Humanities. Joe's published work includes multiple volumes of poetry, fiction, drama, criticism and, with his wife, Danielle Tarmey, he cowrote A Guide to North Carolina?s Wineries. Says Joe, "Although I believe my written work is getting better as I age, I still can?t master bar chords on the guitar." Enjoy his blog, "The Practice of Attention," and learn more about him at www.josephrobertmills.com.
New comments are closed for now.
KevinArnold:
He paints a critical change well.
Posted 09/26/2015 01:31 PM
paradea:
Love this. Joseph Mills is always great!!
Posted 09/26/2015 12:07 PM
Janet Leahy:
This poem moves so well through the passage of time, touching something dear to our hearts.
Posted 09/26/2015 10:15 AM
Cindy:
I love this one.
Posted 09/26/2015 09:19 AM
Linda W. Owen:
Wonderful poem! As a mother and grandmother, I so appreciate this. Great play on the word 'turning' here. Perfect last stanza.
Posted 09/26/2015 09:16 AM
Shoshauna Shy:
Enjoyed starting my day with this poem, having watched my son play soccer from the time he was six years old. Just saw him in a game this summer at age 30...."Turning" brings back the very beginnings...
Posted 09/26/2015 08:13 AM
fuddygail:
I loved "sweetly goofy^....great poem...
Posted 09/26/2015 02:35 AM