(after Kabir)

barely visible on this gray rimmed day
just under the farthest cloud,
the one full of rain,
there is a hint of blue.
If I listen carefully,
I can almost hear it
splashing past the outer perimeters
of heaven

Blue sings
with a lilting soprano;
there are days
it even laughs out loud

but gray never lifts its voice
even though it is kin to silver,
which whistles whenever it can
or dances gaily upon the waters

I wonder some day
if I should make my peace with gray,
but its silence as it broods
threatens like a petulant lover

So I wait, 
because of that azure sliver of sky
wait for the pouring forth,
somewhere there are whole rivers of light

© by Jean Lin.
Used with the author's permission.
Purchase a framed print of this poem.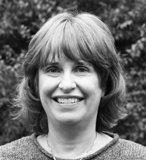 Jean Lin first became enchanted by poetry in the second grade when her teacher read a poem that was so inspiring Jean went home and composed an ode to her kitten. ?I've been playing with poetry ever since," she says. Jean is the author of one book and her work can be found in several anthologies and many journals and London's Guardian newspaper. A reading teacher before she retired, Jean lives in Saratoga, California, where she is surrounded by wonderful poetry opportunities amidst the beautiful mountains, oceans, and redwoods.
rhonasheridan:
A poem for today if ever there was one.
Posted 11/16/2015 12:50 AM
ElizabethP:
Stunningly beautiful images. Bravo!
Posted 11/15/2015 04:42 PM
Mary Lou Taylor:
Jean is a wonderful writer of images. Her book is a delight. As is this poem.
Posted 11/15/2015 01:49 PM
Lori Levy:
I like the way the colors are given sounds: "blue sings," "silver whistles," "gray never lifts its voice."
Posted 11/15/2015 12:12 PM
jtmilford:
A beautiful hopeful poem. Thanks
Posted 11/15/2015 12:08 PM
pwax:
Beautiful poem! And most fitting for this grey time.
Posted 11/15/2015 11:40 AM
diana.anhalt:
simply wonderful. I love the unexpected imagery: "gray-rimmed day," 'blue's soprano and yes, the timing couldn't be better. Diana Anhalt
Posted 11/15/2015 11:38 AM