You can chart the children's growth over the years
in the rise and spread of ornaments up the tree.
As toddlers, they create a skirt of decorations.
A single branch might have a half dozen bulbs
clinking together.  Most are haphazardly secured,
so they periodically fall, bouncing and breaking
on the floor, like a John Cage holiday soundtrack.
As arm spans increase, balls cover more boughs,
and the children begin to have favorite pieces,
ones they make a point of finding a "good place" for.
And then one year, you realize that they understand
the larger whole, that they are striving for balance,
the dark spaces to try to fill them with color and light.
From This Miraculous Turning (Press 53, 2014).
Used with the author's permission.
Purchase a framed print of this poem.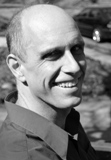 Joe Mills is a faculty member at the University of North Carolina School of the Arts, where he holds the Susan Burress Wall Distinguished Professorship in the Humanities. Joe's published work includes five volumes of poetry, fiction, drama, criticism and, with his wife, Danielle Tarmey, he cowrote A Guide to North Carolina's Wineries. Says Joe, "Although I believe my written work is getting better as I age, I still can't master bar chords on the guitar." Enjoy his blog, "The Practice of Attention," and learn more about him at www.josephrobertmills.com.
New comments are closed for now.
Lori Levy:
Like the idea of filling the "dark spaces" with "color and light."
Posted 12/15/2015 12:42 AM
transitions:
Enjoyed your lovely poem, thanks.
Posted 12/14/2015 05:43 PM
Marilyn L Taylor:
Very nice. Well done.
Posted 12/14/2015 09:25 AM
KevinArnold:
Fine Christmas poem.
Posted 12/14/2015 08:42 AM
Cindy:
so nice
Posted 12/14/2015 08:39 AM
paradea:
Beautiful and so true!
Posted 12/14/2015 07:50 AM
mimi:
lovely and true...and I can't do bar chords either!
Posted 12/14/2015 07:18 AM