I want my funeral to be
in a bright cheery room
filled with daisies, dahlias
and Queen Anne 's lace.
I don't like dark places,
but I'd prefer a closed casket.
I never liked people staring at me.
Instead, they could place
my photograph on top.
Maybe the black and white
snapshot of me posing
in my striped bathing suit
when I was sixteen.

I hope my family forgets
about the time I ran
around the house screaming
that a mouse was chasing me.
It was only a ball of string.
I want my kids to forgive me
and never mention the wild
Halloween costumes I concocted.
Suzie looked like Dopey the Dwarf
with over-sized rubber ears
and a stocking ski cap;
Bobby was supposed to be
The Jolly Green Giant
with Crisco and green food dye
smeared on his face.
They looked just fine to me.

For a hymn, I'd choose something
more lively than Rock of Ages,
and a little more subdued than
When the Saints Come Marching In.
A perfect gravesite would be
on the top of a hill
with a maple tree shading my plot.
It should be in an old cemetery
Where they still allow tombstones,
so my epitaph could read,
I tried, Lord, I tried.
From Jerkumstances (Pearl Editions, 2003).
Used here with the author's permission.
Purchase a framed print of this poem.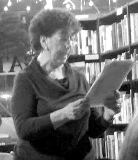 Barbara Eknoian lives in La Mirada, California. From her store of vivid memories, she writes a lot about her growing-up years. Originally from New Jersey, she was forever homesick until she joined Donna Hilbert's poetry workshop in Long Beach. Barbara was the first recipient of the Jane Buel Bradley Chapbook Award for her collection, Jerkumstances (Pearl Editions). Her most recent book is Why I Miss New Jersey.
rhonasheridan:
Wonderful poem! As a much- loved friend of mines coffin went quietly behind the curtain at the crematorium - a very noisy band struck up (at her request,! ) " here comes the galloping Major!" There is a lot to be said about humour!
Posted 04/03/2016 01:37 AM
Lori Levy:
Great poem. Especially like the beginning!
Posted 04/02/2016 05:34 PM
KevinArnold:
Great poem. I wrote a column on things poets write on their gravestones. http://www.usrepresented.com/2016/01/21/kevins-much-loved-poems-requiem/ The most surprising was Elizabeth Bishops: "All the untidy activity continues Awful but cheerful."
Posted 04/02/2016 02:55 PM
transitions:
I know...I tried too. Thank you for sharing ~
Posted 04/02/2016 12:07 PM
erinsnana:
great poem! Timely for me, too. I turned 65 this year and was informed by my life insurance that I was no longer eligible for benefits. They won't take any more monthly payments from me. I didn't die in time, I guess. :(
Posted 04/02/2016 11:47 AM
barbsteff:
I'm for When the Saints Come Marching In" for my funeral! Good poem.
Posted 04/02/2016 11:18 AM
cork:
I have my hill picked out!
Posted 04/02/2016 11:10 AM
Barry:
Great poem! Love the ending.
Posted 04/02/2016 09:11 AM
paradea:
Good one!!
Posted 04/02/2016 09:07 AM
Newf:
I looked st the title and inwardly went "oh no". Then I read it and feel like saying "me too", and read it again. Barbara got everything right, I'd love to meet her.
Posted 04/02/2016 03:09 AM