still      missing
the ivory-
handled knife
yellowed
scorched in one spot
 
once buried
in my mother's
utensil drawer
 
after searching
cabinets and dark spaces
under potholders
in the silver chest
 
still      missing
 
use another
my father said
 
and I use the knife
he hands me
to cut my favorite cake
the one she always made
for me
the confetti
angel food
glazed
in pink
 
that does not
taste the same
Š by Gail Goepfert.
Used with the author's permission.
Purchase a framed print of this poem.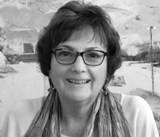 Gail Goepfert is a poet, amateur photographer, and teacher. Currently, she is an associate editor of RHINO Poetry. Her first chapbook, A Mind on Pain, was released by Finishing Line Press early in 2015, and her poetry and photos appear in numerous print and online publications. Gail lives  in the Chicagoland area. Learn more about her at gailgoepfert.com.
abell:
Did we have the same mother? You describe MY cake and MY knife! Nothing is as good as the memory of it from childhood.
Posted 06/12/2016 12:39 PM
JanetruthMartin:
brilliant!
Posted 06/10/2016 10:18 AM
Catharine:
Beautiful, Gail! Can feel the knife cutting.
Posted 06/10/2016 07:50 AM
barbsteff:
Yep. That's the way it goes!
Posted 06/09/2016 09:22 PM
transitions:
My mom was the best cake maker in the family and she took the ability to make the chocolate frosting that never ran, but glowed, with her. I miss that frosting but there are no words for how I miss her... Judy.
Posted 06/09/2016 11:17 AM
Jo:
Thanks Gail. Sure can relate to this poignant poem.
Posted 06/09/2016 10:52 AM
Lori Levy:
Love the way it builds up to the ending.
Posted 06/09/2016 09:51 AM
Jean Colonomos:
Jean Colonomos Love the form and the content of this poem. It's as if you draw the poem in words.
Posted 06/09/2016 09:15 AM
cork:
I love the space.
Posted 06/09/2016 08:46 AM
Jancan:
Gail, your concise, powerful poem makes me think of Mama's dishes--especially her gravy and chocolate pies--that I could never come close to! Janice
Posted 06/09/2016 08:09 AM
blueskies:
O, Gail~ YOU nailed it! In a poem. That same energy is in our souls---my 3 sisters & brother are never quite able to duplicate Mom's recipes! Many thanks.
Posted 06/09/2016 07:38 AM
Laurenepersons:
Spot on. Like her angel food cake with the Dream Whip frosting--it never tastes the same.
Posted 06/09/2016 05:34 AM
Belinda Veldman:
Poignant.
Posted 06/09/2016 02:53 AM