They ordered their dinner at half-past three.
I purchased the chicken, the steak, and the Brie.
By half-past four, the ragout was a-bubble,
the chicken was buttered and herbed at the double.
The bones had simmered to savoury soup;
at just after five, the prawns I could scoop
into the melon - the tastes to combine.
By six, we had chilled some suitable wine.
The pate was perfect, I felt quite assured
and salami adorned a smart salad board.

At half-past seven ? with thoughts blasphemarian ?
I found that my guests were all vegetarian!


© by Rhona Aitken. 
Used with the author's permission.
Purchase a framed print of this poem.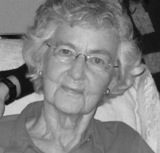 Rhona Aitken has lived all over the world during the course of her life. The author of The Memsahib's Cookbook, which she wrote while living in India and for which she also provided all of the illustrations, Rhona and her husband, Gordon, now deceased, owned and operated a hotel in the U.K. for many years, after which they bought an old-world house and turned it into a thriving restaurant. Now living in a care facility in Exmouth, Rhona has three children and seven grandchildren, all of whom inherited her love for travel. At 90, Rhona continues to write and paint, shares Your Daily Poem every morning with her neighbors, and continues to travel—on her 3-wheeler. Says Rhona, ?Life is hilarious, and I have some wonderful stories to tell."
New comments are closed for now.
transitions:
Wonderful ~
Posted 07/13/2016 06:13 PM
Lori Levy:
Funny!
Posted 07/13/2016 04:58 PM
annie_jenkin:
I really like this poem, the rhyme, sentiment and content is such a joy. Thank you
Posted 07/13/2016 03:00 PM
LindaCrosfield:
Absolutely delightful! I live in an area rife with vegans/vegetarians/pescatarians and the first thing you do when someone you don't know well is coming for dinner is ask what they won't eat. Me, I'm more of an opportunivore.
Posted 07/13/2016 01:23 PM
cork:
You would be a super smash with Ogden Nash.
Posted 07/13/2016 01:07 PM
AllegraSilberstein:
I was getting hungrier and hungrier as I read your poem...the ending delighted me for 2 of my 3 daughters are vegetarian.
Posted 07/13/2016 01:01 PM
Glen Sorestad:
Delightful!
Posted 07/13/2016 09:59 AM
Jancan:
I love it--the rhyme, rhythm, hilarity! Janice
Posted 07/13/2016 09:26 AM
Wilda Morris:
What fun!
Posted 07/13/2016 08:35 AM
Donal Mahoney:
Not only is the poem a joy but that Rhona is writing at 90 gives me some long-range hope.
Posted 07/13/2016 08:34 AM
Newf:
What fun! I would love to meet Rhona Aitken. Sounds like a wonderful person.
Posted 07/13/2016 08:00 AM
Larry Schug:
From personal experience? A sense of humor is the best way to deal with these situations. And an excellent poem coming from the experience certainly is a way to make lemonade from lemons.
Posted 07/13/2016 07:21 AM
blueskies:
Truly a delight! The kitchen aromas & labors seasoned~ with thoughts blasphemarian! A fun poem. Thanks Rhona.
Posted 07/13/2016 07:21 AM