Silver lace dapples the ocean
as far as I can see.
Sentinel clouds
with pale reflections
escort the wandering moon
as she gently sweeps
the universe.

She shines on me?
does she also shine on you?
Has her benevolence
reached your shores?
so far away?

On such a night
when we can see stars,
undimmed by land-made lights,
there is such beauty
it takes your breath away.
I gaze in wonder.
This is a night
I do not want to sleep.
© by Rhona Aitken. 
Used with the author's permission.
Purchase a framed print of this poem.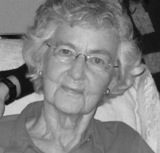 Rhona Aitken has lived all over the world during the course of her life. The author of The Memsahib's Cookbook, which she wrote while living in India and for which she also provided all of the illustrations, Rhona and her husband, Gordon, now deceased, owned and operated a hotel in the U.K. for many years, after which they bought an old-world house and turned it into a thriving restaurant. Now living in a care facility in Exmouth, Rhona has three children and seven grandchildren, all of whom inherited her love for travel. At 90, Rhona continues to write and paint, shares Your Daily Poem every morning with her neighbors, and continues to travel—on her 3-wheeler. Says Rhona, "Life is hilarious, and I have some wonderful stories to tell."
New comments are closed for now.
Lori Levy:
Especially like the "silver lace" in the first line.
Posted 09/16/2016 07:44 PM
jtmilford:
Your poem has passed your magical feeling on to me. Tahnks
Posted 09/16/2016 07:37 PM
barbsteff:
Silver lace dapples the ocean - perfect line and description.
Posted 09/16/2016 12:49 PM
blueskies:
A pure joy to read & behold! Thanks, Rhona
Posted 09/16/2016 10:23 AM
Michael:
Dear Rhona, Thank you for this insightful poem so gently presented. You have given me a fresh perspective on something as common as moonlight.
Posted 09/16/2016 10:15 AM
ElizabethP:
This is lovely. I do not want to sleep! :-)
Posted 09/16/2016 08:35 AM
Newf:
Always good to see a poem by Rhona Aitken. Her poetry is wonderful and I like her attitude toward life. I love the ocean, thanks Rhona.
Posted 09/16/2016 06:43 AM