But who are you?
What is it that is so familiar?
Some way that you stand - or walk -
some angle of the way you sit -
Or push your hand to arrange
the beautiful hair
that floats upon your shoulder.

You greet me with such enthusiasm,
smiling - everything you do
tells me that you know me -
why don't I know you?

This agnosia is like a dyslexia -
an affliction.
If you had a huge, ignoble nose
or a mouth of cruel distortion
there would be no problem -
but pleasant regularity of feature
defeats me.
A small part of my brain that gives me grief.

I'm sure I know you very well....?
But who are you?
©†by Rhona Aitken.
Used with the authorís permission.
†
†
Purchase a framed print of this poem.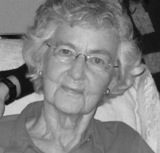 Rhona Aitken has lived all over the world during the course of her life. The author of The Memsahib's Cookbook, which she wrote while living in India and for which she also provided all of the illustrations, Rhona and her husband, Gordon, now deceased, owned and operated a hotel in the U.K. for many years, after which they bought an old-world house and turned it into a thriving restaurant. Now living in a care facility in Exmouth, Rhona has three children and seven grandchildren, all of whom inherited her love for travel. At 90, Rhona continues to write and paint, shares Your Daily Poem every morning with her neighbors, and continues to travel—on her 3-wheeler. Says Rhona, "Life is hilarious, and I have some wonderful stories to tell."
New comments are closed for now.
KevinArnold:
How wonderful.
Posted 03/13/2017 10:03 PM
barbsteff:
Good poem, thanks. I love your perception that "Life is hilarious…"
Posted 03/13/2017 04:05 PM
Michael:
Well-done Rhona I was unaware of this condition until I read your superbly crafted poem. Thank you.
Posted 03/13/2017 10:07 AM
DavidTookey:
Powerful poem. Interesting note: The American artist Chuck Close suffers from this disorder. Yet, he is most famous for his huge paintings of faces. (It is thought that this is why he paints this way.)
Posted 03/13/2017 09:46 AM
Jancan:
This is very moving. Janice
Posted 03/13/2017 08:53 AM
rhonasheridan:
"R" , it's a Welsh or Scottish name.
Posted 03/13/2017 08:17 AM
Jim Ellis:
This is a beautiful poem. I especially love the last two lines - so tender. Wonderful, Rhona. - Jim Ellis, Auburn/NY
Posted 03/13/2017 06:09 AM