Calamari, mussels, a chowder, jellied eels …
a succulent collection. A dainty little meal.
A tantalizing tingle from a lemon-flavoured fish,
with a rich and rare aroma from a dark and daring dish.
Tables set and fires lit, silver-ware clean and shining,
waitresses, with pencils poised, awaiting all those dining.
"Your orders, Sir, what is your wish?
"what dishes, if you please?"
"Two steaks, well done—with chips galore,
and lots of frozen peas!"
© by Rhona Aitken.
Used with the author's permission.
Purchase a framed print of this poem.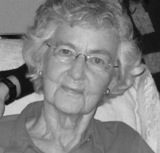 Rhona Aitken has lived all over the world during the course of her life. The author of The Memsahib's Cookbook, which she wrote while living in India and for which she also provided all of the illustrations, Rhona and her husband, Gordon, now deceased, owned and operated a hotel in the U.K. for many years, after which they bought an old-world house and turned it into a thriving restaurant. Now living in a care facility in Exmouth, Rhona has three children and seven grandchildren, all of whom inherited her love for travel. At 90, Rhona continues to write and paint, shares Your Daily Poem every morning with her neighbors, and continues to travel—on her 3-wheeler. Says Rhona, "Life is hilarious, and I have some wonderful stories to tell."
New comments are closed for now.
Jancan:
Very entertaining and well-written! Janice
Posted 04/11/2017 09:59 PM
barbsteff:
Hah! No accounting for taste! Well done.
Posted 04/11/2017 01:35 PM
erinsnana:
This is great!
Posted 04/11/2017 01:25 PM
Glen Sorestad:
I'll go for the "succulent collection", please.
Posted 04/11/2017 10:22 AM
Katrina:
I can imagine driving along on a three-calamaried car, overtaking the old bangers and mash.
Posted 04/11/2017 09:23 AM
Belinda:
Wonderful poem! The kind that invites reading and re-reading for the pure of good poetry.
Posted 04/11/2017 08:37 AM
KevinArnold:
Fun!
Posted 04/11/2017 08:12 AM