Children are a gift
– a gift you can't keep –
one you hold a single season.

We prepared for the moment
– a moment, in some far tomorrow –
when you would leave.

We just didn't think
tomorrow would happen
 –  so fast.


From Midwest Medley – Places & People, Wild Things & Weather (Kelsay Books/Aldrich Press, 2018).
Used with the author's permission.
Purchase a framed print of this poem.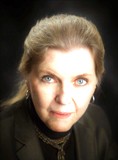 Patricia Williams was a professor of Design for 27 years at the University of Wisconsin – Stevens Point and planned to write a book about Chinese art after retiring. Instead, she began writing poems, which she had never done – proof that it's never too late to do something new. Patricia lives in Wisconsin.
antoinette:
This made me smile, but it is an arrow through the heart nonetheless.
Posted 08/21/2018 08:59 AM
Mary Lou Taylor:
Wait until the great grandchildren come. Our two have bonded. Seven and two. He reads books to her. This poem brings it all to mind. I'm reading the comments below and find them all so true.
Posted 08/17/2018 05:08 PM
Patricia Williams:
Thank you, Jayne and all, for the kind words....know they are greatly appreciated.
Posted 08/17/2018 05:05 PM
michael escoubas:
This poem is a gift,Patricia. So true as we grandparents treasure our precious grandsons/daughters as gifts so soon out the door!! Beautiful photo Jayne--lovely granddaughter.
Posted 08/17/2018 04:07 PM
rhonasheridan:
Yes alas - BUT--bevore it ever seemed possible - along come the grandchildren!
Posted 08/17/2018 12:41 PM
wordartdjc:
Such a deep 'feeling' poem. I admire the depth of its simplicity.
Posted 08/17/2018 09:50 AM
cscoville:
I am always amazed at how a good poet can distill a big truth into a few lines. Ms. Williams has certainly accomplished that with this poem.
Posted 08/17/2018 09:49 AM