Stay in your pajamas half the day
get a message and the therapist doesnít talk
work on some writing at your desk
the phone doesnít ring
read a book while eating lunch in your kitchen
get some laundry done
take a nap with your cat
put on James Brown and dance around the living room
donít put on makeup
make popcorn, watch Netflix
share popcorn with dog
†

From Be There or Be Square (Moon Pie Press, 2018).
Used with permission.
†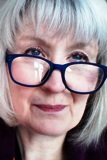 Alice N. Persons is the editor and publisher of†Moon Pie Press, established in 2003, which publishes work by poets from all over the country and now has more than a hundred books in its catalog. Author of five collections herself, Alice lives in Westbrook, Maine with two cats and a dog, all rescues. She volunteers for the nonprofit MSSPA, New Englandís largest horse rescue organization, and teaches part time at the University of Southern Maine. Alice loves walking her dog, holidays, travel, baking, and Maine in all seasons.
†
†
barbsteff:
As an INFP I concur. Neat idea.
Posted 02/20/2020 01:14 PM
Lori Levy:
I don't have pets, but the rest sounds good!
Posted 02/20/2020 12:26 AM
peggy.turnbull:
Yes--that's a good day.
Posted 02/19/2020 12:04 PM
BAMars:
Pretty much how I spent my birthday!
Posted 02/19/2020 11:38 AM
michael escoubas:
Couldn't agree more, Alice! I'm a confirmed and happy introvert too.
Posted 02/19/2020 10:04 AM
cork:
Popcorn is perfect!
Posted 02/19/2020 09:21 AM