Because we waste not, when gooseberries
dangle from our fence, I harvest the sour spheres,
eager to can. My husband toils alone inside,
ticks numbers off a spreadsheet. Our child

skips in circles, gyrates to peepers bellowing
in the violet evening. I tell him fairies dance
between the roots of our ancient pine. I want
to give him a world suffused with awe.

We travel to old growth forests, waterfalls
and rivers, seek the magic of summer hail,
the loon's cry. For a trace of time we are earth's
acolytes, tending to tomatoes, savoring pears.

nature our son shrieks. We hear a chair
scrape against the bare floor, the screen door squeak.
The night ratchets up in happiness. And creation,
bringer of our abundance—how to bless it in return?


© by Peggy Turnbull.
Used with the author's permission.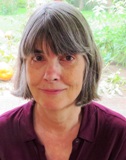 Peggy Turnbull lives in Manitowoc, Wisconsin, the place of her birth. A former librarian, she enjoys her local public library, watching the Star Trek episodes she missed when her son was young, exploring local parks and trails, and singing in a community chorus. Peggy's micro-chapbook, Rocking Chair Abstract, was published by the Origami Poems Project. Learn more about her at https://peggyturnbull.blogspot.com/.
Wilda Morris:
"For a trace of time we are earth?s / acolytes." That is my favorite phrase in this joyous poem. Thank you!
Posted 07/21/2020 04:16 PM
Jancan:
You have vividly described something wonderful--everyday life playing out.
Posted 07/20/2020 10:52 AM
Anastasia:
You have found such lovely poetry in seemingly small moments?thank you for this bit of peace and joy.
Posted 07/19/2020 06:19 PM
Lori Levy:
Beautiful language.
Posted 07/19/2020 05:58 PM
Jo:
beautiful and caring poem.
Posted 07/19/2020 03:44 PM
BAMars:
A perfect childhood and a beautiful poem.
Posted 07/19/2020 01:39 PM
joecot:
This poem is a blessing.
Posted 07/19/2020 11:59 AM
DELINDMAN:
Beautiful, real and profound. I'm saving this one.
Posted 07/19/2020 11:42 AM
Jean Colonomos-1:
So graceful, so the reminder of awe. Thank you.
Posted 07/19/2020 10:52 AM
peninsulapoet:
Lovely poem.
Posted 07/19/2020 09:43 AM
michael escoubas:
This poem is pure joy, Peggy . . . and the tendency to share such joy marks out the best poets. Nicely done!
Posted 07/19/2020 09:30 AM
jeeger:
Perfect!
Posted 07/19/2020 08:47 AM
Larry Schug:
But bless nature and ourselves we must.
Posted 07/19/2020 07:51 AM
beatingheart:
If we don't take care of our home, the earth, who will?
Posted 07/19/2020 06:36 AM