A butterfly flashed
past my windshield
at seventy miles per hour
emerging from the chrysalis
of a pair of low-rider jeans,
its wings revealed from beneath
a billowing cropped t-shirt
while clinging for life
on the back of a Harley
swerving serpentine
around the rush hour
semis, SUVs and sedans
riding the jetstream
of U.S. 1 and disappearing
until I saw it again
a half hour down the road,
perched in the parking lot
of the Bennigan's
on the clover leaf
to Route 18.
From The Secret History of New Jersey (Northwind Publishing, 2009)
Used here with the author's permission.
Purchase a framed print of this poem.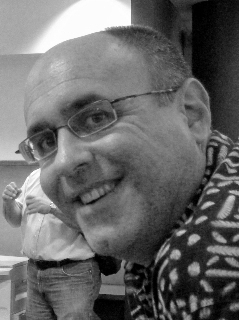 Tony Gruenewald was born in Manhattan, but grew up in the shadow of the water tower of the Edison Ford Assembly Plant in New Jersey. He has worked as a fast food fish fryer, on a loading dock, in broadcast journalism, and as an advertising copywriter. He saw his advertising work on the giant scoreboard at Yankee Stadium and heard it trashed on the radio by Don Imus. He currently works for Recording the Blind & Dyslexic as Assistant Production Director where he helps coordinate volunteers and acts as a computer whisperer. His poems have appeared in The New York Times, Adbusters, Exit 13, Slow Trains, U.S. 1 Worksheets and Edison Literary Review, where he serves as production manager. His collection, The Secret History of New Jersey, was recently published by Northwind. For more about him, visit www.tonygruenewald.com.
There are no comments for this poem yet.