What surprised me the most
when I first touched
my premature twin sons
was how close my palms
could get to their hearts
thrumming against tender cages.

Their skin too sensitive to stroke,
I just held them close,
chest against heaving chest,
almost heart to heart,
and I breathed close to tears
hoping they would not die.

I hoped not against hope,
knowing that if they lived
their bodies would grow
more secretive of their hearts,
followed by other secrets
making them only themselves.

No, I hoped for hope,
that they may live and grow,
even if it is a growing distance
from me, but so they know
and hold close other hearts
hoping they would not die.
From Suddenly Slow (Handtype Press, 2008)
Used with the author's permission.
Purchase a framed print of this poem.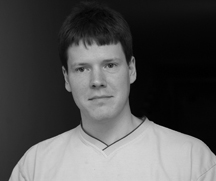 John Lee Clark was born deaf and became blind in adolescence. His work has appeared in many publications and he is the author of a chapbook and editor of the definitive anthology, Deaf American Poetry, published by Gallaudet University Press. Currently, John is co-editor, with his wife, of Clerc Scar (www.clercscar.com), an arts site for the signing community. He lives in St. Paul, Minnesota, with his wife and three sons.
There are no comments for this poem yet.