The book of Fall has opened,
     its leaves dry, cracking

each spread a cacophony of color
     mountains pixelated yellow, magenta

horizontal spines
     of still lake and sky, cyan saturated

the climax, the falling away
     trees mostly bare,
     a breath held
     before winter's bright black and white.

This poem first appeared in Echoes Across the Blue Ridge (Winding Path Publishing, 2010)
Purchase a framed print of this poem.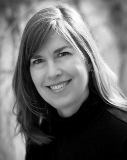 Karen Paul Holmes is a semi-retired freelance business writer who now focuses most of her energies on her love of reading and writing poetry. She splits her time between Atlanta and her beloved cottage in the Blue Ridge Mountains. She also enjoys classical music, theater (especially comedies), Ikebana, contra-dancing and spending time with her 23-year-old daughter and two Welsh Terriers. In January 2011, Karen will teach a writing class at John C. Campbell Folk School in Brasstown, NC.
mvp:
That is a lovely poem!
Posted 10/04/2010 11:12 AM
MicaelaOlmos:
That's lovely. A lovely poem. Thank you
Posted 10/04/2010 07:48 AM
Buckner14:
And those fortunate enough to live in the Blue Ridge experience this glory every year!
Posted 10/03/2010 07:17 PM
marenomitchell:
Stark and lean, yet strongly evocative, "Autumn Story" is complete with a perfect metaphor. Thanks for posting Karen's poem. Maren O. Mitchell
Posted 10/03/2010 12:43 PM
Ginny C.:
Nice poem. I especially like its first and last lines. I am looking out across a lake at the trees on an island, just starting to turn gold and rusty red as I read this poem and write this response. The poem does a good job of capturing this seasonal view.
Posted 10/03/2010 10:48 AM