I know it must have something to do

the separate strands of melody interweaving,

the simultaneous motions, nimble as

            multiple mice running mazes.

Why she likes this, I can guess

because I, myself, have a thing for toccatas.

While she listens, her ears perk up

whether it's harpsichord or organ

or Frescobaldi played on a small string band.

And, yes, she'll also chase a small piece of string,

pursuing and pouncing on the wriggling

as if it were a snake or an escaping strand

She likes plain fugues and canons less

for reasons I'm not quite sure­

except that I, myself, also prefer toccatas

Sometimes, for a really good toccata­

            by Boellmann, Bach, or Gigout­

I turn the volume way up,

and even the spiders seem to enjoy it,

up in the corners of the room

where they weave their webs of fine-spun silk

while the tip of the cat's tail rises and falls,

            rises and falls,
sinuous as a conductor's baton.

 
    From Blue Lace Colander (Marsh River Editions, 2008).
    Used with the author's permission.


Purchase a framed print of this poem.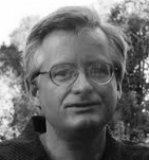 Timothy Walsh grew up in New Jersey, but has lived for the past twenty-five years in Wisconsin. His poems and short stories have appeared widely and his awards include the Grand Prize in the Atlanta Review International Poetry Competition, the Kurt Vonnegut Fiction Prize from North American Review, and the Wisconsin Academy Fiction Prize. He has been featured on Garrison Keillor's The Writer's Almanac and has been nominated three times for a Pushcart Prize. He is the author of a book of literary criticism, The Dark Matter of Words: Absence, Unknowing, and Emptiness in Literature (Southern Illinois University Press) and two poetry collections, Wild Apples (Parallel Press), and Blue Lace Colander (Marsh River Editions). Currently an assistant dean at the University of Wisconsin-Madison, Timothy's inspiration comes from always walking, whenever he can, and being on or near the water whenever possible-­canoeing, kayaking, sailing, or sitting by the shore. He also enjoys tending a garden of roses, climbing vines, and fruit trees while the garden tends to him.
Katrina:
Thank you, Jayne! I love learning new musical terms. I can spend whole mornings immersed in them. Timothy Walsh brings them down to Earth. My canaries bop to fifties music. Perhaps I shall have to invest in some antique bars for them to frequent.
Posted 04/01/2011 04:38 AM
LindaCrosfield:
I've noted the tail like a baton thing with my cat, too. Really enjoyed this one.
Posted 03/31/2011 03:45 PM
transitions:
What a wonderfully clever poem! It's as "nimble as multiple mice running mazes". An inspiration ~ thank you. Judy
Posted 03/31/2011 02:05 PM
bookcat:
Delightful poem. I can SEE the spiders and the cat moving to the toccatas.
Posted 03/31/2011 12:07 PM